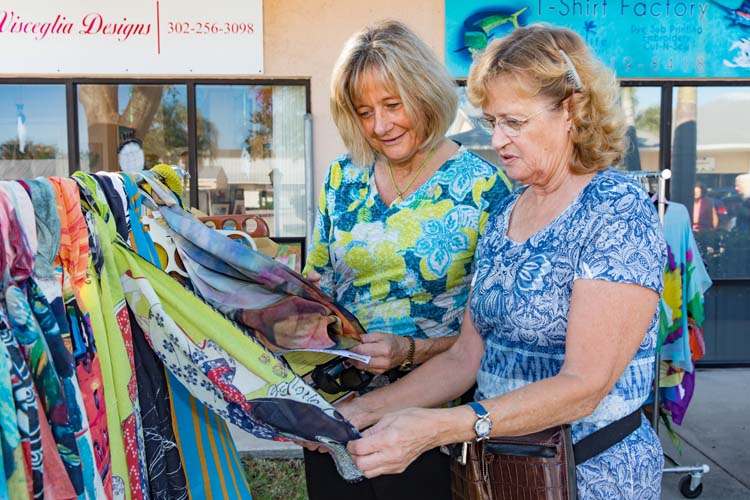 Art enthusiasts forged a trail off the beaten path to the studios of local artists last Saturday during the Vero Beach Art Club's 10th annual Art Trail, getting a peek at what goes on behind the curtain of artists' inner sanctums.
Artists may only participate once every three years, keeping things fresh and ensuring a good mix of newcomers and the more seasoned. It gives them all a means to show off their work, explain their processes and get feedback from artists and patrons.
"We were looking for quality but also wanted to offer a lot of different kinds of art," said event co-chair Phil Reid, a new member of the club. "We have everything from hand-dyed clothing to woodwork and photography to pottery."
A well-known portrait photographer, Reid opened his studio so shutterbugs could get a feel for what goes on behind the camera.
In Sebastian, the Working Art Studio presented the work of four artists: Margaret Goembel, assemblages; Elise Geary, abstracts; Andrea Lazar, animals; and Gail Fayerweather, oceanscapes and jewelry.
"We're all very active members of the Vero Beach Art Club and believe in doing whatever we can to help the greater cultural community," said Goembel. "This is a woman's version of a man cave."
Paulette Visceglia, a relative newcomer to the area, was thrilled to have an opportunity to share with visitors her studio and the art of painting on silk.
Just down the road, Mark Kirby commented, "As an abstract artist it's good to get validation that what I'm doing is good work. You put all this effort into it and you want to share it."
Deborah Gooch, Kirby's sister and a popular contemporary artist, said she enjoyed the chance to interact with non-artists. "It's interesting to see their reaction. I was lucky enough to grow up in a family that supported artists and the arts."
Mags Hobbs said her loose freestyle defies traditional labels, adding, "The subject matter and how it makes me feel is how I decide what to do. I don't follow just one."
Anne Malsbary, current VBAC president, offered visitors a photographic journey from her own backyard to faraway places such as Tanzania and the Galapagos Islands. "I've shown my environmental images on the Art Trail before. This time I just want for people to see my work."
Master craftsman Al Gustave returned to the trail for the third time, displaying some of his finished pieces, including everything from intricately patterned wooden bowls to a rocking chair.
Eileen Farrell's home and studio are tributes to the vanishing art of stained glass, showcasing her lampshades, suncatchers and even a fireplace she converted into a showpiece by enclosing it with stained glass.
Alicia Callander, whose garage was filled with hand-built, original pottery designs, served on the board during the time of the inaugural Art Trail and was instrumental in expanding participation to various artistic mediums.
As she traveled from studio to studio, Dorothy Chasewood commented, "It's not until you get into their studios that you see the variation in what they do. If you see artists in a gallery, you just see a glimpse. The Art Trail is a wonderful way to really see the full spectrum of what we have to offer in Vero Beach."
Proceeds support VBAC educational outreach programs through scholarships, programs and supplies. Next up is the 30th annual Art by the Sea, Jan. 19 thru 21 at the Vero Beach Museum of Art.
For more information, visit verobeachartclub.org. 
Photos by: Denise Ritchie
Click HERE to see more or buy photos