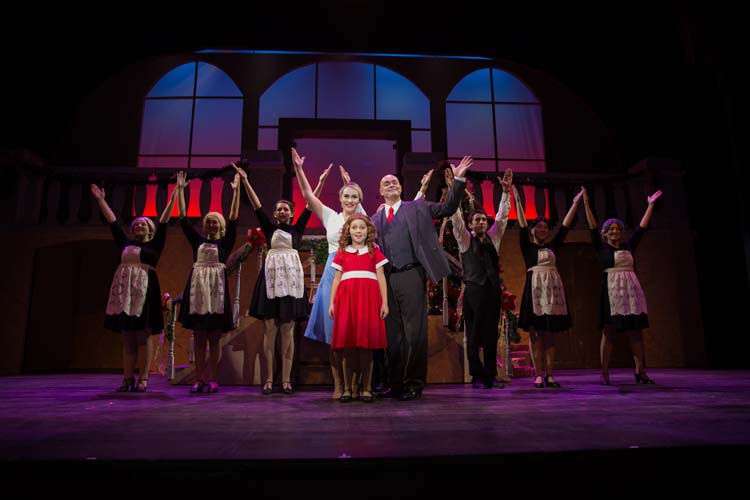 Once again, Melbourne's Henegar Center has imported some Vero talent for one of its big musicals. "Annie," that opened last weekend at the theater, is directed by Beth Shestak, a former instructor at Riverside Children's Theatre and cast member of Jon Putze's Theatre-Go-Round dinner theater troupe.
The show gets its musical direction from longtime Vero Beach choral director Ryan Kasten, who also conducts during the performances.
And Vero Beach actor Rob Kenna, a native of Australia who plays guitar and sings around town, plays the billionaire Daddy Warbucks.
But it is a Melbourne Beach father and daughter for whom the sun has finally come out – in a manner of speaking, as Kenneth Hjorstberg and his 11-year-old daughter Katie share the spotlight at the same time, After playing in 13 shows together, the two finally appear on stage in the same scene.
The moment comes when Annie, played by Katie, runs away with her dog, Sandy. A policeman, played by Kenneth, finds Annie, confronts her and takes her back to Miss Hannigan.
"The best thing is that we finally do a scene together with dialogue," Katie said. "That has never happened before."
Of course, that is only one tiny moment in a show saturated with enough warmth and optimism to melt the coldest of hearts out there and even turn political adversaries into allies.
And, with enduring songs like "Tomorrow," "It's the Hard Knock Life" and "Easy Street," it's pretty hard to believe that this year, "Annie" turns 40.
After having its pre-Broadway tryout in 1976 at Connecticut's storied Goodspeed Opera House, "Annie" the musical opened on Broadway in 1977 and garnered seven Tonys, which was very remarkable at the time. Among the awards, it won Best Musical, Best Book (Thomas Meehan) and Best Original Score (Charles Strouse and Martin Chamin). Interestingly, the Annie in the tryout became the understudy for Andrea McArdle, who was nominated for a Tony.
Based on Harold Gray's comic strip "Little Orphan Annie," the musical is set in the era of the Great Depression. It begins in 1933 at a girls' orphanage run by the brassy Miss Hannigan, played at the Henegar by Karen Monks of Cocoa Beach. An army of little girls help Annie "escape" the orphanage so she can find her parents. She eventually falls into the graces of kindly billionaire Oliver Warbucks, played by Vero Beach's Kenna.
A plot twist or two later, she's singing "Tomorrow" for Franklin D. Roosevelt, played by Terrence Girard of Palm Bay. We won't go further for fear that there must be some reader out there has never seen the musical.
Anyone?
Indeed, even 11-year-old Katie has seen the movie and the stage musical. Her father has not only seen the show, but was in a production of it about 25 years ago playing the same roles he's playing at the Henegar.
The cast's 20 orphans have been rehearsing since September. The same number of adults started rehearsing mid-October.
As with any musical, the rehearsals included not only learning lines and blocking, but also singing and dancing. Direction there came from music director/conductor Kasten and vocal director Sarah Germain. Leading them in the dancing was choreographer Amanda Cheyenne Manis.
"The musicians are flawless," Katie said. "The crew is very helpful and is always there when you need them. The cast has been so loving and supportive. I couldn't be Annie without them."
Those feelings are reciprocated, said director Shestak.
"Katie and her dad have been an absolute joy to work with," Shestak said. "Katie has an unbelievable talent and it has been amazing to see her grow as a performer and simply shine on stage. She and her dad make a great team both on and off the stage."
For sure, it has taken a lot of time, but it did not disrupt the Hjortsberg household because, as Katie said, "a performance schedule is a normal schedule for us."
"It's mainly late nights and sleepy mornings," Kenneth said.
And being in "Annie" is worth every sleepy morning for Katie.
"I love it because it is a story of hope filled with real emotion," she said. "I think people will like this production. Everyone has worked so hard to tell the story. Plus, everyone loves a cute dog."
"Annie" runs through Dec. 17 at the Henegar Center, 625 E. New Haven Ave., Melbourne. Tickets are $26 general, $23 adults and military and $16 students. There is a $3 service fee per ticket. Call 321-723-8698 or visit Henegar.org.