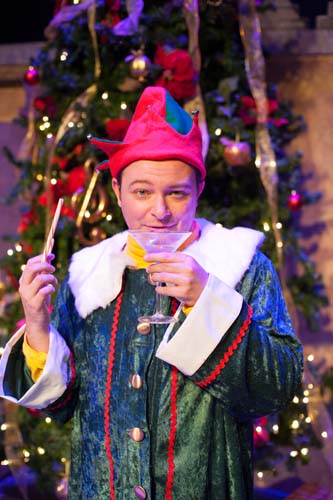 Get ready. It's Crumpet the Elf as described by the irascible David Sedaris in his underground phenom, "The Santaland Diaries," opening Thursday (Dec. 7) and running through the weekend at the Henegar Center in the venue's second-floor Studio Theatre.
Intended for a more sophisticated crowd, perhaps one that enjoys a soupcon of cynicism in their eggnog, "The Santaland Diaries" is a late-night adult treat. The curtain is 10 p.m. (except for Sunday, which has an 8 p.m. curtain).
The show stars Orlando actor/director BeeJay Aubertin Clinton (and is directed by this writer).
While using martinis to tend his parched throat, Crumpet the Elf goes into detail about the motley crew forming the cast of elves; the awful behavior shown by many adults; the army of Santas; and the ignominy of someone fabulous having to wear a perky green cap.
There is language. There is snarky attitude. There is too much information. There is "Oh no you didn't!" You might call it a holiday palate cleanser.
"I made the trip out to Melbourne to audition for the show, not really sure what to expect," Clinton said.
Then he read the script. Then he got the call. Clinton describes his luck as Crumpet himself might have. "When I received the call that I got the role, I simultaneously wanted to cheer and vomit."
The one-man show is based on a story Sedaris presented as actual experience working as an elf in Macy's Herald Square Santaland in New York City. Raised in North Carolina, Sedaris moved to New York in hopes of being an actor. Out of work, he decided to do something to pay the bills, hence the elf gig at Santaland. Sedaris eventually went on to become a celebrated humorist and popular author. His essay "Santaland Diaries" was his breakthrough moment on National Public Radio's "Morning Edition."
"The Santaland Diaries" plays at 10 p.m. Thursday, Friday and Saturday, and at 8 p.m. Sunday in the Studio Theater on the second floor of the Henegar Center, 625 E. New Haven Ave., Melbourne. Tickets are $26 general, $23 for military and seniors and $16 for students, plus a $3 handling fee per ticket. The show is not suitable for children. Call 321-723-8698 or visit Henegar.org.