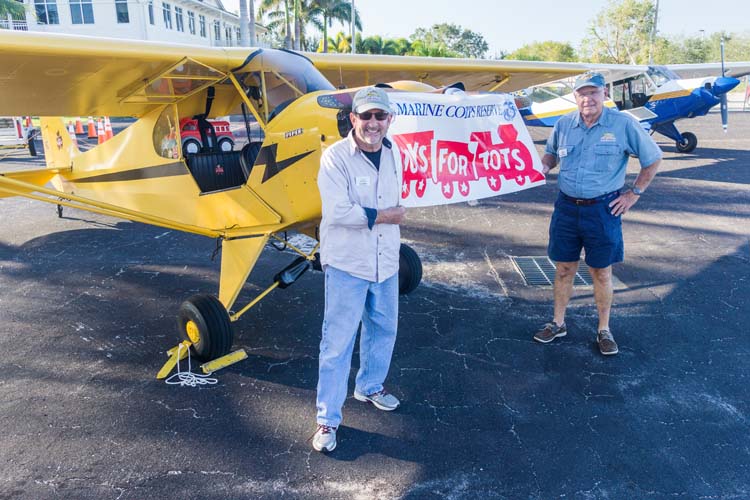 Instead of a boatload of toys, members of the Florida Cub Flyers and Florida Antique Biplane Association converged on the Vero Beach Regional Airport Dec. 2 to deliver planeloads of playthings for the Marine Corps' Toys for Tots program. The congenial gathering of pilots, who had flown in from all around the state, also enjoyed a bountiful breakfast buffet at CJ Cannons.
"This is a good central location here in Vero because we can pull in people from everywhere," said Larry Robinson, who flew up from the Willis Gliderport fly-in community west of Boynton Beach. "And also, they treat us really well in the restaurant. It's a good group; a lot of us have known each other forever. It's a very tight community."
Robinson, who is credited with arranging the groups' first Toys for Tots fly-in many years ago, added, "We try to do two of what we call socially redeeming functions."
"Next month we're going to Belle Glade to give rides to children and introduce them to the joys of aviation," said Vero Beach resident Carl Miller, a founding member of the Florida Cub Flyers.
Their two groups will join forces with the U.S. Experimental Aircraft Association for its Young Eagle program that day. Robinson said a fourth group, the OFFC, will also be involved, adding with a smile, "It stands for the Old Farts Flying Club; it's all a bunch of gray-haired people who fly."
Saturday's impressive collection of Cubs and biplanes included a 1941 Stearman Open Cockpit, a pre-war plane used to train fighter pilots, and Miller's bright yellow Piper Cub 1941 J-3, another trainer aircraft.
"Donna and I have had that airplane almost 10 years," said Miller, crediting his wife for restoring the plane back to factory new. Their efforts were rewarded with the 'Best in Authenticity' Award at Piper Aircraft's recent 80th Anniversary Celebration.
Although the two clubs are chapters of the Antique Airplane Association, some of the planes on Saturday were newer versions, including a new state-of-the-art Carbon Cub and a 2013 Legend Cub with Carbon Fiber Amphibious Floats.
Photos by: Gordon Radford
Click HERE to see more or buy photos