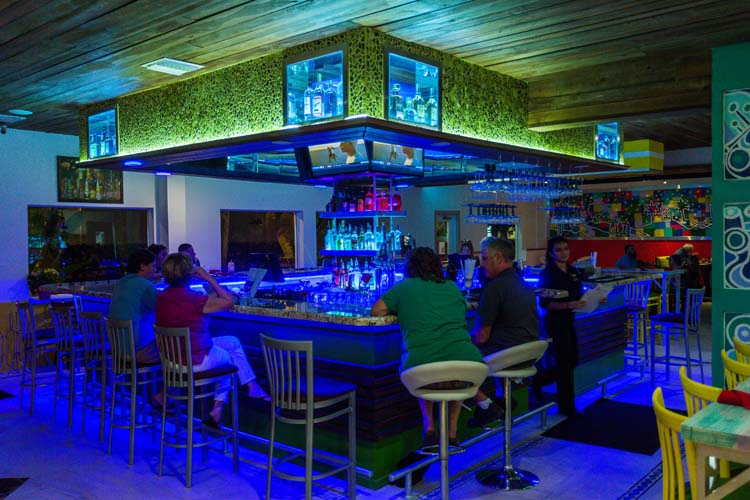 A new restaurant named after Inti, the ancient Incan sun god, opened in mid-November in the building just off Miracle Mile that once housed the old Long Branch Saloon. Inti couldn't look less like the Long Branch. Totally redone inside and out, featuring bright colors and an interior décor that might best be described as eclectic, Inti has a cool vibe.
Headline news: Our first couple of visits left us with the impression that Inti hasn't decided what it hopes to be six months from now.
While the name (and some of the menu items) seem to tap into the popularity of Peruvian restaurants, the Colombian chef says the restaurant plans to add dishes from other Latin American countries and the menu says "serving global flavors."
What the restaurant is not is Mexican – even though it does serve nachos, and is owned by the people who own Ay Jalisco.
Look & Feel: Trying to describe Inti reminds me of the parable of the blind men and the elephant.  The upper half of a bright red wall along one side of the restaurant is decorated with a multi-color tropical mosaic.
Another wall provides an elegant stone backdrop to the green booths. The wooden tables are topped by an inlaid Spanish-language version of a Monopoly board.
And a blue luminescence radiates from the bar, a dimly lit island in the center of the large room.
Food:  On two visits, we tried a variety of the appetizers and entrées.
We loved Inti's Peruvian-style ceviche ($13.50), beautiful chunks of raw fish marinated in lime and spices served with choclo and sweet potato – but were a little taken back when later told that the fish they are using is Swai, an Asian farm-raised catfish.
We also enjoyed a huge plate of "factory nachos" ($10.50) – a Cheesecake Factory special in which the crisp tortilla chips are covered with melted cheese, guacamole, sour cream, black beans, jalapenos, green onions and salsa. On one visit, I had the soup of the day – a homemade chicken soup – which was the best I have had in a long time.
For entrées, my husband gave high marks to the lomo salteado ($15.5), Peruvian marinated strips of sirloin steak with onions and tomatoes, served with white rice and delicious French fries.  He was less enthused about the churrasco ($18), a flank steak served with a chimichurri sauce that was not up to Argentine standards.
I loved the chaufa, a flavorful mix of Peruvian and Chinese fried rice with steak and chicken ($15). I also enjoyed the tallarin verde con bistec ($15.50), a plate of wonderful green pasta with pesto sauce topped by a small  steak.
Drink:  With a full bar, Inti offers a variety of cocktails, as well as a selection of wine and beers.
Service: Our server on our first visit, Zach, deserves a shout-out – extremely knowledgeable and attentive.
Prices: Prices seem extremely reasonable. Most specials and seafood run in the mid-to-high teens, with entrées topping out at $28 for the filet mignon.
Initial impressions:  We have sampled only a tiny fraction of the many dishes offered, but everything we had was very fresh, very well cooked, and very well-seasoned.
We plan to return for a couple more of the Peruvian dishes – the pollo saltado (marinated strips of chicken with onions and tomatoes) and the jalea mixta (a fried mix of seafood).
On one of our visits, Inti also had a DJ, dancing, and was trying a karaoke night. Like I said, Inti seems to have something for everyone. This restaurant is different – for Vero, very different. Give it a try.
Give it a try.
I welcome your comments, and encourage you to send feedback to me at tina@verobeach32963.com.
The reviewer dines anonymously at restaurants at the expense of Vero Beach 32963.