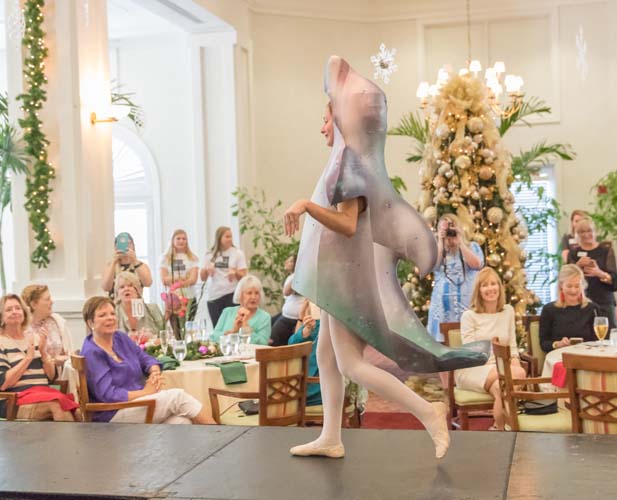 Roughly 150 people, including perfectly behaved children, were treated to a very special fashion show that gave a sneak peek of wonderful things to come at the second annual Tea Up for the Nutcracker luncheon last Saturday afternoon at the Oak Harbor Club to benefit Ballet Vero Beach.
After lunch, local supporters of the ballet and some adorable youngsters walked the runway wearing festive holiday attire from Casp Baby, GT Rhodes, Lily Pad, Sara Campbell, Sassy Boutique, Vernon Scott and Wrare Doll. Interspersed were student performers from the upcoming world premiere of Nutcracker on the Indian River, presenting a preview of a few of the creative costumes designed by Ballet Vero Beach's Travis Halsey.
Even the delightful centerpieces played to the theme; six different designs by Ashley Dowdell and Marylou Robins featured the types of unique Indian River Lagoon flora and fauna characters which will be showcased in the ballet's second act.
"At Ballet Vero Beach, our mission is to promote the art of dance as a universal language in our community and beyond. And we do that through performances by our residential company, our education and community outreach initiatives and performances by reputable national and international dance artists," said Adam Schnell, artistic director/CEO, in a short speech before the fashion show. "Now what does that mean? That means we don't do anything the easy way."
He related that in a recent article, Miami City Ballet, an obviously much larger organization, said it was proud to have 12 students from their outreach program performing in their Nutcracker this year. "We have 24," said Schnell.
The 24 (12 Boys and Girls Club, eight Indian River Academy and four Youth Guidance) will be among the roughly 50 youngsters who will dance alongside 23 professionals in the production.
"When I was designing the program I wanted to make sure that it was not just for kids that were in dance class. I wanted to give the opportunity to kids that maybe had never been on stage before," said Schnell.  "Camilo (Ballet Master Camilo Rodriguez) and I have been rehearsing them since September and they'll get to be out there in front of the audience just like everyone else. And the production itself really represents a knitting together of all of our mission areas. We've never been able to get the kids from the Ticket Donation Program on stage before and this production takes them from being passive audience members to active participants. I think that that's the transformation."
After the show, patient little ones were kept busy with miniature golf and Christmas cookie decorating while waiting their turn for a visit with Santa as the adults indulged in gourmet desserts.
Nutcracker on the Indian River performances will take place 8 p.m. Dec. 29 and 2 p.m. Dec. 30 at the Vero Beach High School Performing Arts Center. For more information, visit balletverobeach.org.    
Photos by: Denise Ritchie
Click HERE to see more or buy photos