A wealth of holiday events is in store this holiday season, so get out your calendar and take a look.
"Christmas and All That Jazz" is the next, holiday-specific offering in the Emerson Center's lauded Humanities Series, when the Fort Pierce Jazz and Blues Society brings out the brass Thursday, Dec. 14. Expect a family-friendly evening of seasonal favorites with an upbeat, jazzy, bluesy vibe, by musicians who've played in top groups all over the globe. Make sure to wear your toe-tappin' shoes. If you get hungry from all that toe-tappin,' stay for after-show holiday refreshments. "Christmas and All That Jazz" is free and begins at 7 p.m.
The internationally acclaimed sibling musicians Suliman Tekalli, violinist, and Jamila Tekalli, pianist, Americans  of Japanese and Libyan descent, perform together as Tekalli Duo, and will bring their elegant, high-intensity concert of Tchaikovsky, Prokofiev, Corigliano, Mozart and more to the Treasure Coast in a single performance Friday, Dec. 15, at First Presbyterian Church of Vero Beach. Jamila Tekalli is an active chamber musician who has performed internationally and holds a doctorate in performance from the University of Miami, among others. She has directed several masterclasses and piano workshops and has performed as a soloist and chamber musician at festivals including Boston University's Tanglewood Institute, Bowdoin International Music Festival, Keyboard Institute at Mannes, and the Banff Centre. Suliman Tekalli's performing career has taken him throughout the U.S., Canada, Central America, Europe and Asia, from the Kennedy Center in D.C., to Seoul Arts Center in Korea. Together their recitals combine standard classical repertory with newer works by composers of their heritage, and their own transcriptions of classical and contemporary. The concert is sponsored by the Space Coast Symphony orchestra and begins at 7 p.m. Tickets are $20 in advance at www.SpaceCoastSymphony.org, $25 at the door, and free for those 18 and under, or with student ID.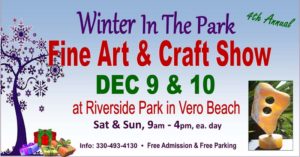 A leisurely stroll in a beautiful setting, booth after booth displaying all kinds of art, and holiday excitement in the (not frosty) air. That's what's in store for you at the 4th Annual Winter in the Park Fine Art and Quality Craft Show this Saturday and Sunday in Vero's oak-shaded Riverside Park. With more than 70 talented artists and craftspeople, there's a good chance you'll come upon one or two just-right Christmas gifts among the myriad  paintings; sculptures of metal, wood, stone; apparel and jewelry; photography; glass work; mixed media creations; and fragrant potions – candles, soaps, tisanes, olive oils. Yes, there will be foodstuffs and beverages. The Winter in the Park Fine Art and Quality Craft Show hours are 9 a.m. to 4 p.m. both days. Parking and admission are free.
A "Winter Wonderland Holiday Concert" by the talented young musicians of the Vero Beach High School symphonic band, jazz band, chorus and orchestra will be presented to the community this Sunday and Monday in the VBHS Performing Arts Center. Always a wonderful way for families to share the spirit of the holiday season, this local tradition promises a celebration of "warmth, joy and festivity." Tickets range from $6 to $12. Concert times are Sunday at 2 p.m. and Monday at 7 p.m.