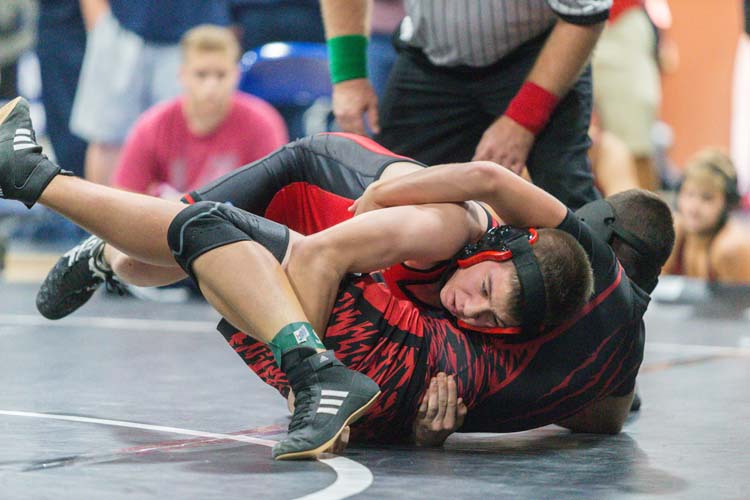 Head coach Chris Zuniga will introduce more than a dozen newcomers to the rigors of wrestling at Vero Beach High School this year, and the goal is to see how many of them stick with a sport that is not designed for the faint of heart. Daily practices will serve to separate the committed from the pretenders. Apparently, GPAs will do the same.
"The majority of my team is freshmen and sophomore first-year wrestlers," said Zuniga. "I have about 30 kids, but I also have a few issues with grades and things like that. We are now working to bring those grades up. That's the first priority and when that is resolved, they can jump in later.
"So basically what I have is a JV group wrestling for the varsity. That's not necessarily a bad thing because they are going to get a lot of experience and learn a lot very quickly. As far as my returnees go, I do have some good ones. About five from last year are going to be my core guys.
"Anthony Donath at 113 (pound weight class) or 120 is a solid wrestler. He's looking to wrestle in college so he's really refocused himself this year. Eric Brown at 138 made it to regionals last year. I think he will get over that hump and make it to states this year.
"Nathan Gagnon is one of my better wrestlers at 126. He just missed the state tournament last year by one match. Jacob Pryor at 120 is a solid rookie who has been wrestling with our club team for several years. He won't be going to states or anything like that, but we are looking to polish him up as much as we can by the time districts come around."
"My biggest returnee is heavyweight Billy Laziman. He was our only qualifier for states last year as a sophomore. He just got done with football, but he put in a lot of work over the summer. We are looking for big things from him this year.
"Those are pretty much my main guys. That's my core varsity squad. I will be filling in the gaps and sorting out weight classes with a lot of new wrestlers."
Zuniga also listed Tanner Glass at 182 or 195 and Matthew Vann at 182 as state hopefuls. Both are in very competitive weight classes. Injuries likely kept Glass from a state berth last year.
With 10 seasoned wrestlers and six of those capable of challenging for the state tournament, Zuniga's side task is to keep newcomer attrition to a minimum and see that people are GPA eligible. In that sense this season will be a juggling act.
"My approach with new wrestlers is to make them feel welcome," Zuniga explained. "We want to get them in here and not scare them off right away. It's not so much a recruiting issue as it is a retention issue. The biggest drawback is that so many kids want instant gratification and instant success.
"There are so many distractions and kids want to be good right away. That is never going to happen with this sport. You have to take your lumps and learn. I tell them there is always somebody out there in better shape and with more knowledge about the sport, so you are going to lose – and lose a lot. But you have to learn from it and get back on that horse until you finally start achieving success.
"I guarantee you wrestlers work harder than any other sport on campus. We condition, drill and practice every day for three hours. We end it with a good 30-45 minutes of wrestling and these kids are beat and sweaty when it's all over. They've got bumps and bruises, but that's what makes them tough. They've got to deal with that type of thing and push through it.
"I look to the veterans to take the lead and set the example by doing what they have to do, not complaining, and putting in the work. That usually rubs off. The kids start enjoying the sport when they see the direct correlation between putting in the effort and reaping the rewards. The hard part is to get them to stick around long enough to see the results."
The season began last Saturday with a meet at Sebastian River High. Zuniga has time and ample  opportunities to figure this out with 17 scheduled meets before the districts and regionals in February.