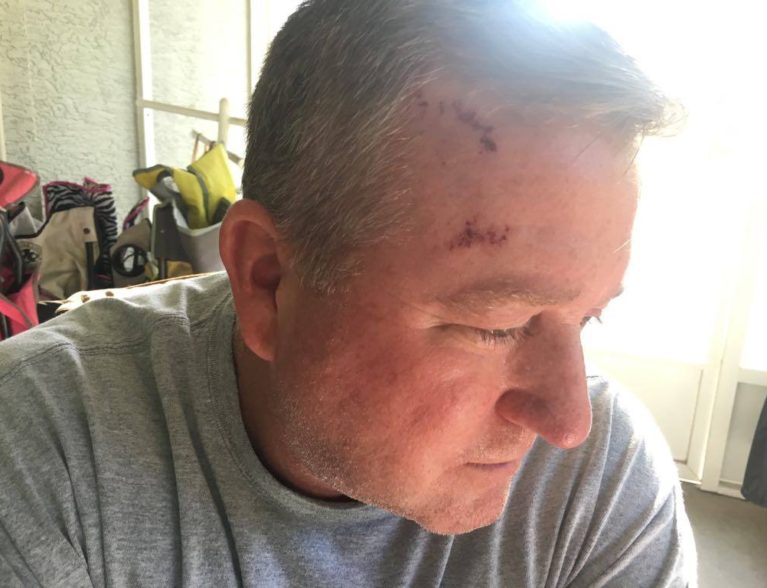 K-9 Deputy Ron Adamson remembers being spun in the air and landing on his head and right shoulder after being hit by a motorcycle that later led law enforcement officials on a high-speed chase through two counties.
After landing face-down about 10 feet away from where he was standing, Adamson said he rolled over and radioed for help.
"I just remember him revving up the engine and coming toward me," Adamson said. "Then, I was lying on the ground with the wind knocked out of me."
Adamson has been resting at his home since the incident. Details on when he will return to work were not available.
"This is the first day I'm up," Adamson said. "Yesterday, I was mostly lying on the couch."
Several scratches can been seen on the right side of Adamson's head. His left hand is covered in a bandage because his pinky finger was twisted and dislocated during the crash.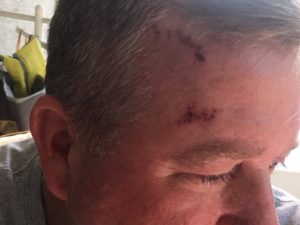 Adamson said doctors at Sebastian River Medical Center were able to put the finger back in place.
"They think it had tendon and ligament damage," Adamson said. "The doctors told me to see an orthopaedics surgeon for my finger."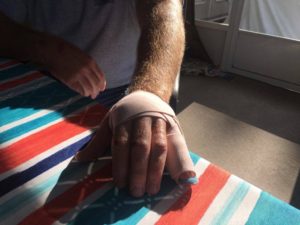 Adamson was patrolling an abandoned construction zone about 6 p.m. Sunday in the 9900 block of U.S. 1 in Indian River. He said the area has three 4-story condominiums, located toward the back of the subdivision, where kids would go to throw parties and where homeless people would camp out.
The condominiums are still under construction and privately owned, Adamson said. The owners didn't want anyone trespassing on the property.
When Adamson drove to the area, he saw the gate to the uncompleted subdivision was open, which made him suspicious. Adamson drove inside and saw two teenagers walking down the street.
He said he got out of his patrol truck and spoke with the teens when he heard a motorcycle starting up by the condos. Adamson said he saw two people get on the motorcycle and then drive slow in his direction.
Adamson said he put his hand up and told them to stop. As Adamson walked in front of the motorcycle to get to the other side, the motorcyclist accelerated and struck Adamson.
"I was only stopping them to get their I.D. and to tell them there was no trespassing," Adamson said. The motorcycle then fled the area.
Adamson said the two teens he was talking to earlier had stayed on scene and helped him.
"They gave me a description of the motorcycle and asked if there was anything they could do for me," Adamson said. He said another K-9 deputy found him soon after with the help of a sheriff's helicopter.
The motorcycle then led law enforcement officials on a high-speed chase on southbound Interstate 95. The motorcyclist, later identified as Zachary Marcinek, 25, reached speeds of up to 130 mph.
The Indian River County Sheriff's Office, Fellsmere Police Department and St. Lucie County Sheriff's Office pursued Marcinek. Marcinek stopped trying to flee around 6:22 p.m. He and his passenger were apprehended near Indrio Road and Kings Highway by St. Lucie County Sheriff's deputies.
The video below was provided by the Sheriff's Office. 
Deputy Injured – Motorcycle Pursuit

MEDIA RELEASE: December 3, 2017 Deputy injured after being struck by fleeing motorcycle At approximately 5:52pm, Indian River County Sheriff's Deputy Ron Adamson was patrolling an uncompleted subdivision which had been abandoned near the 9900 block of U.S. 1. Deputy Adamson was on foot when he observed two subjects, a male driver and female passenger, on a motorcycle. They attempted to flee from Deputy Adamson who motioned with his hand and gave the driver a verbal order to stop. The driver sped passed the deputy, striking him and causing him to fall to the ground. A vehicle description was given to on-duty units via the law enforcement radio. At approximately, 6:06pm, an officer with the Fellsmere Police Department saw the suspect vehicle on County Road 512 at 108th Avenue. A traffic stop was attempted, but the suspect fled and headed south on I-95. Units from the Indian River County Sheriff's Office joined the Fellsmere officer and followed the fleeing motorcycle into St. Lucie County. Once our agency's helicopter was able to locate and follow the suspect, who had reached speeds of 130mph, ground units terminated their pursuit. Our pilots maintained observation of the suspect and relayed location information to the St. Lucie County Sheriff's Office. At approximately 6:22pm, the suspect ceased his efforts to flee near Indrio Road and Kings Highway and was apprehended by the Saint Lucie County Sheriff's Office. The driver and passenger are being questioned by detectives as of this media release. Any arrests will take place in Saint Lucie County. Deputy Adamson, a 22 year law enforcement veteran, sustained an injury to his hand and head. He is being treated at a local hospital. Further information including the identities of the driver and passenger will be released when available.

Posted by Indian River County Sheriff's Office on Sunday, December 3, 2017
Marcinek was arrested and is currently being held at the county jail on a variety of charges including aggravated battery on a law enforcement officer, trespass on property and fleeing and eluding. He has no bond.
Adamson has worked for the Sheriff's Office for 22 years and as a K-9 deputy for 19 years.