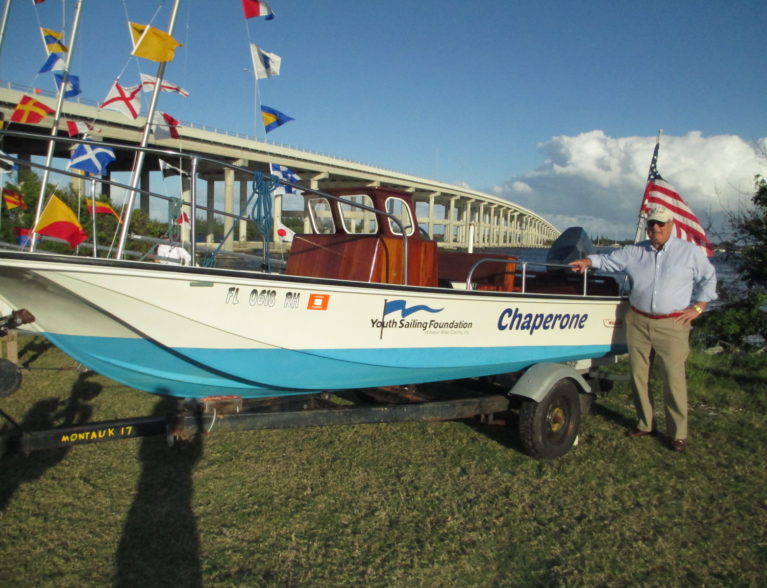 VERO BEACH – The Youth Sailing Foundation commissioned four racing sailboats and two powerboats in a colorful sunset waterfront ceremony recently.
"This is a significant milestone in the growth of sailing in Indian River County," the club said.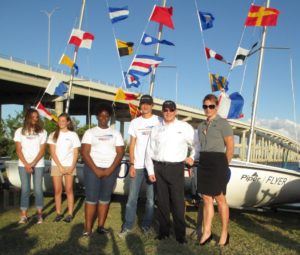 Those in attendance included the boat sponsors, YSF Directors and the teen sailors who will crew the boats.
The Club 420 sailboat is a 14-foot, two-man dinghy recognized as a world class racer and campaigned in national and international championships.   Four boats were named and sponsored by local donors as follows:
PIPER FLYER – Piper Aircraft, represented by CEO Simon Caldecott and Marketing & Communications Director Jackie Carlon – so named by Caldecott, to represent the relationship of sailing to flying with similar navigational and control skills required.
ADVENTURE named by Kitty Mountain, whose chose the name to represent a series of family boats, all named Adventure;
MUCHACHOS by Jim and Donna FitzGerald, Robert and Susan McLean,  Nicko and Carole Parks, and Jay and Betsy Woodruff, who selected the name to represent their golf group;
and REEF POINTS by Joe and Louise Huber, who chose the name to represent the annual handbook of the Brigade of Midshipmen. Joe's son attend the United States Naval Academy.
Tony Tremaine of Vero Beach donated two 1970-era Boston Whalers along with the funds to fully restore the classic boats.   PIED PIPER, a 16-foot run about, and CHAPERONE, a 17-foot Montauk launch, were commissioned.
The two rugged vintage boats will perform duel service as safety boats and instructor launches.
The respective crews, members of the Vero Beach High School Varsity Sailing Team, were introduced and in Navy tradition commanded to "man your boats."
Stu Keiller, YSF Executive Director, concluded by thanking the sponsors for helping to enable over 100 children to receive free sailing instruction each week at YSF.  He emphasized the organization's underlying tenet "Sail for Life," as sailing teaches independence, builds confidence and self-esteem, and empowers young sailors to reach their full potential.
A celebratory reception was hosted by Youth Sailing Foundation at the Vero Beach Yacht Club, where the seasoned sailors and teenaged crews enjoyed swapping tall tales about their sailing adventures.