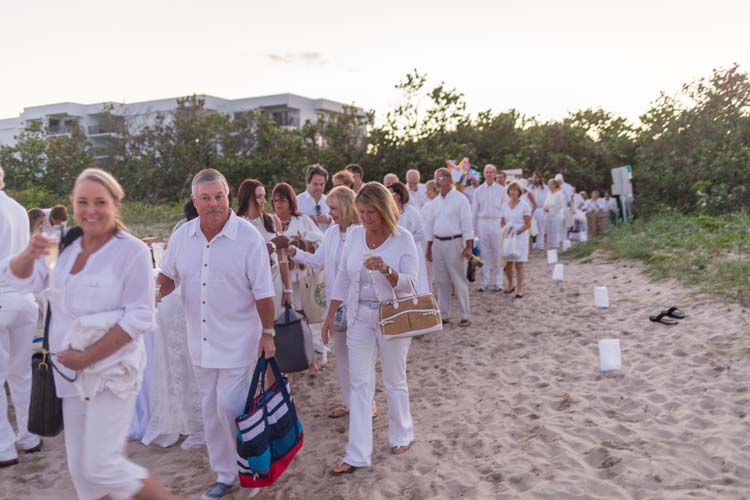 The Vero Beach Wine + Film Festival offered residents yet another unique experience with the launch of a visually stunning Cinema de la Mer White Party at South Beach Park, where invited guests enjoyed dinner, entertainment and a screening of the independent film "D-Love" by Elena Beuca and Dave Rogers.
Although attendees had been given the party date, to pique maximum excitement the 'super-secret' location remained a mystery until a just few days before the event. The evening was the premiere kick-off in a series of events leading up to the 2018 festival in June.
"Our mission is to surprise and delight as usual," said an ebullient Jerusha Stewart, WBWFF co-founder with Susan Keller Horn. "We're coming back bigger, better, more beautiful and outrageous! This year we are increasing the film program to include a larger scope of films from the world cinema never seen in the United States. They are extremely touching and come from filmmakers who are incredible story tellers."
Following the directive of an all-white dress code, partiers toted picnic baskets or dinners they purchased from Chelsea's on Cardinal down to the beach, where they dined oceanside at long tables set with candles and champagne. Tall pillars of white, rice-paper lanterns and lovely ocean breezes added to the ambiance, as did the rhythmic Mambo Mexicana music played by DJ Muhne.
Volunteers held huge ornate raffle buckets offering prizes from cooking classes and wine packages to a walk-on role in Xaque Gruber's new movie, "Pistol," to be filmed entirely in Vero Beach.
After the sun began to set, a thrilling fire dancer entertained, before guests were treated to a screening of the award-winning film.
"This is very reminiscent of the kinds of events I have seen in places like Bali, outside on the beach," said Kai Martin. "Vero needs more events like this where they are charging a reasonable price and it's fun, it's different and we are out on this beautiful night with such perfect weather."
Last year's VBWFF, highlighted by a visit by actor Burt Reynolds, was attended by approximately 2,000 people. The 2018 festival will be held June 7-12.
For more information, visit vbwff.com.    
Photos by: Denise Ritchie
Click HERE to see more or buy photos