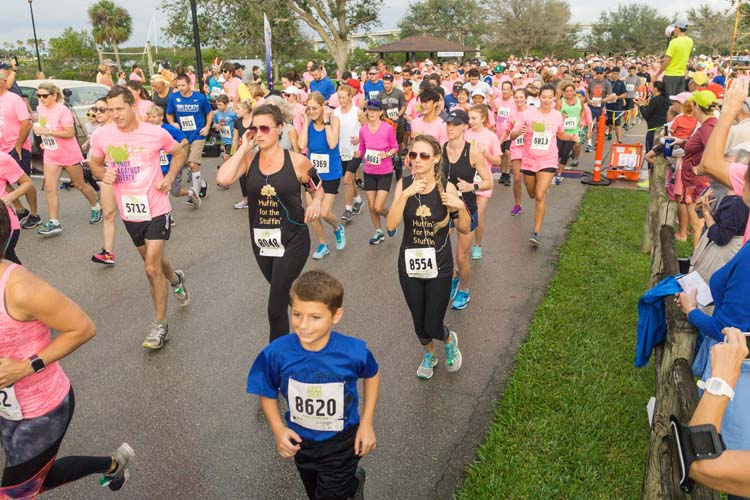 Anyone who believes Vero is deserted around the holidays has never been to Riverside Park on Thanksgiving morning. Roughly 2,000 people, and plenty of well-behaved pooches, packed the park for the 10th annual Thanksgiving Day Trot Against Poverty 5K to benefit United Against Poverty.  Affectionately known as the Turkey Trot, 1,650 registered runners and walkers were cheered on by several hundred spectators and an army of volunteers.
It's a collaborative community effort with everyone doing their part, from the George E. Warren Corporation, which led the generous sponsorship pack, to the efficient Runners Depot race coordinators and pre- and post-race banter of Treasure and Space Coast Radio's Hamp Elliott.
Volunteers arrived in the pre-dawn hours to direct the parking of hundreds of cars – a particular challenge due to a rather soggy field – and helped to serve and clean up after the post-race breakfast.   Still others lined the route to hand out water and, along with 16 members of the Vero Beach Amateur Radio Club, directed and monitored participants along the way.
Chef Cassandra Lynne of A Fraiche Note and Bent Pine Golf Club Executive Chef Sarah Wills stepped up to the griddle this year with their team to cook up 2,000 sweet potato pancakes using six 5-gallon buckets of batter prepared by Marsh Landing Restaurant, along with 2,000 links donated by Bent Pine.
"Every year the number of participants has gone up," said Austin Hunt, UP founder with wife Ginny.  "We're just so grateful to the community for the support we're getting. With 40 percent of the community struggling to meet the basic cost of living, United Against Poverty is unfortunately needed more than ever. Families are looking for a hand up to economic prosperity and independence and that's what we're all about."
Grinning from ear to ear, eager young gobblers started things off with a children's sprint before the rest of the crowd, from serious runners to infants pushed in strollers, began the trek.
"We love the community tradition of families who come out year after year to start their Thanksgiving," said Annabel Robertson, executive director. "It's a great way to kick off the day and help families in need."
United Against Poverty assists those living in poverty with programs and services such as crisis care, case management, education, employment training and placement and a cost-share grocery.
Photos by: Gordon Radford
Click HERE to see more or buy photos