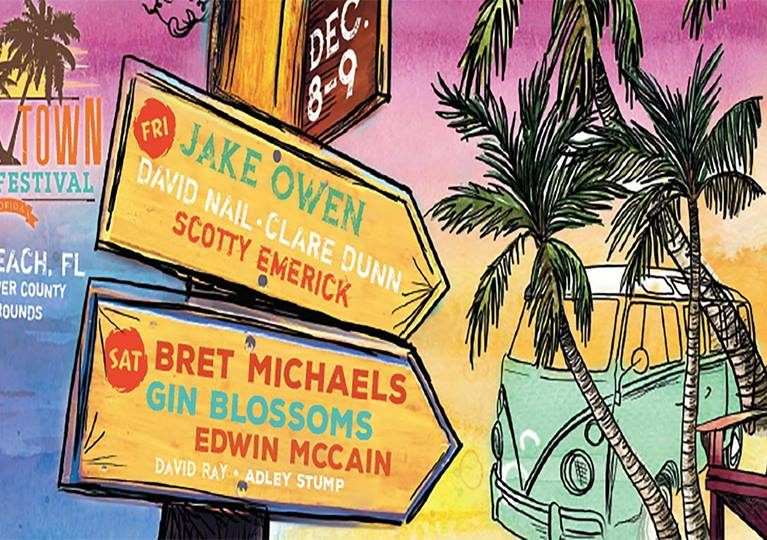 When I say "Jake Owen", you say … "Yeeee-haw!" Vero's very own country music star (painted-on jeans, 200-watt grin, charm galore) brings his Beach Town Music Festival (country and rock) to the Indian River County Fairgrounds this coming weekend – Dec. 8 and 9 – and you should absolutely grab your tickets pronto because this Music City country rock luminary draws crowds like bees to blossoms.
The festival website calls Vero Beach "a gracious seaside hamlet" (apropos) and promises the hottest acts in rock and country (can't argue with that). Check out the line-up: Friday, Jake's headlining, of course. Featured artists include David Nail (No. 1 hit, "Whatever She's Got"); Claire Dunn (opened for Florida Georgia Line, Chris Young, Miranda Lambert and others); and another Nashville star from Vero, songwriter/singer Scotty Emerick, who tours with and writes songs for Toby Keith among others, including "Beer for My Horses," I Love This Bar"and "As Good As I Once Was").
Saturday will be rockin' out with headliner Bret Michaels (killer blue eyes, signature dew rag, lead singer of the glam metal band Poison, reality TV series "Rock of Love"); and featured artists Gin Blossoms (rock band), Edwin McCain (two Top 40 hits, "I'll Be" an "I Couldn't Ask for More"); David Ray (describes his music as "rock and roll rooted in country soil"); and Adley Stump (rose to fame on the second season of The Voice. Hit singles "Stay At Home Soldier" and "Don't Wanna Love Him"). Tickets: Friday, $69; Saturday, $49; both, $99.
An excellent and much anticipated way to enjoy a taste of the creative, artistic talent that flourishes in the Vero area, Vero Beach Art Club's Art Trail, is happening this Saturday. The Art Trail is a self-guided, open-house tour of 10 member artists' home studios, 10 a.m. to 4 p.m.
Not coincidentally, you will be able not only to enjoy the wonderfully diverse works but also, should one speak to you, acquire it for yourself or as the perfect gift for someone very special. You'll likely recognize a number of this year's artists: Alicia Coliander, Al Gustave, Eileen Farrell, Paulette Visceglia, Mark Kirby,  Deborah Gooch, Mags Hobbs, Phil Reid, Anne Malsbary and the art studio group Gail Fayerweather, Margaret Goembel, Andrea Lazar and Elise Geary.
Tickets are required and available at the Art Cub office at the Vero Beach Museum of Art; and the Artists Guild Gallery or the Cultural Council office, both on 14th Avenue, downtown: $25 in advance, $30 day-of-event at the artists' studios. You can download a map on the Art Club website.
Have you attended a Night Sounds concert at the Sebastian Inlet State Park? It's a unique Florida experience. This Saturday, bring a folding chair or blanket and take full advantage of being in the land of sand and salty breezes instead of snow and salted roads this Christmas season.
Bringing the music will be Rod MacDonald, a well-known and prolific folk singer and songwriter, novelist and educator at Florida Atlantic University. Relax, enjoy the tunes, watch the sun set (perhaps a moon rise, as well) and even grab pop, snacks, burgers and dogs from BG's Surfside Grill and Adventures nearby.
The concert is free with regular park entry fee. Music starts at 7 p.m.