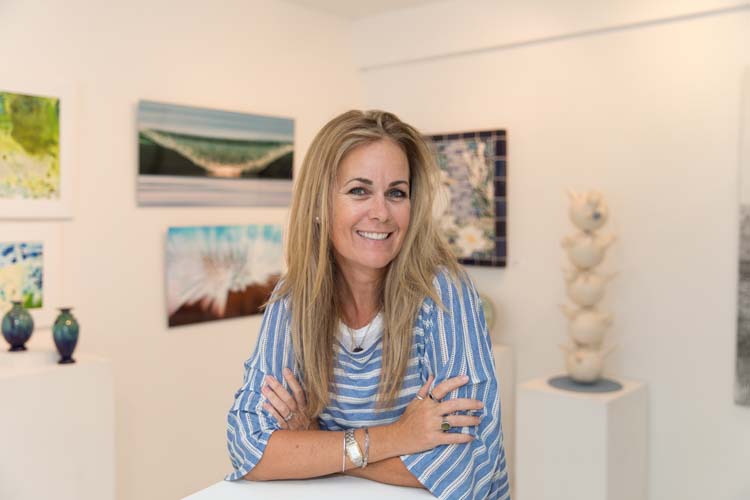 Atlanta attorney Kirsten Kowalski knew it was time to move when the drive into the city from her rural hamlet in the exurbs grew from 40 minutes to two hours.
After a whirlwind visit to Florida, she and her husband Jack, also a lawyer, were swept away by the beauty of Vero Beach. Both got the OK to work remotely and three years ago, they and their two daughters settled into a house near the ocean.
Today, Kowalski makes her own schedule for her legal work; she is in-house general council for a real estate development company. But she still rises before dawn, not to tackle paperwork but to capture the sunrise on her Nikon camera. It is the latest spin on what has always been a tandem career for her: professional photography. In Atlanta, it was portraiture; now it is seascapes.
Her photos, often shot in knee-deep water, are printed on canvas, glass or metal. They splash the walls of her new workspace in downtown Vero's Tiger Lily Studios and Gallery. She is the latest to join the co-op of artists that include some of the Vero arts district's earliest supporters: Glenda Taylor, Julia Carter, Shotsi Lajoie, Sharon Sexton and Travis Blanton.
"I've got new working coming in" for Friday's Gallery Stroll, Kowalski says. Already her prints are selling well, she says: One stunner of a single wave breaking at the center of the frame has been printed and sold multiple times, including for a bedroom of a set of young sibling surfers; another large print on metal of an emerald green sea and blue sky served as the palette for a customer's bathroom renovation.
Reaching the shore 15 to 30 minutes before sunrise, her dog at her side, Kowalski waits for first light with her camera in manual mode. Of late, she has been playing with longer exposures to create abstract bands of color where nature's boundaries of shore, sea and sky are delineated. Vero's shoreline and vast sky have become the backdrop of Kowalski's family life. Though she is still practicing the art of getting up on a surfboard, her husband and both daughters are all grabbing boards when the ocean warrants. On calmer days, they paddleboard, and the youngest daughter, in middle school, just earned her dive certification and finished a boating class.
Kowalski herself has taken part on one of Vero's youngest sports – rowing – after dropping in on a learn-to-row day at McWilliam Park, sponsored by Vero Beach Rowing. It was something she'd always dreamed of learning, with a brother who rowed at Annapolis, and a great-uncle who rowed in the Olympics. Shorty Hunt was part of the Olympic team, immortalized in the book and film "The Boys in the Boat."
"I loved it," says Kowalski. "It's a great sport, lots of good exercise out there in nature. With all the birds we saw, ospreys and eagles, all I could think of was I need my camera in my boat."
There, she met one of the rowing club's longtime officers, Shotsi Lajoie, who paints large abstracts and does clay sculpture at Tiger Lily.
That bit of serendipity continued when another Tiger Lily artist, Julia Carter, happened to hire her to shoot a portrait of her daughter. So did Travis Blanton, who used Kowalski to photograph her sculptures for her website. And yet another Tiger Lily artist, Sharon Sexton, turned out to have painted a large mural of a tropical jungle for an outside bar area at the house the Kowalski's bought.
As much as she's photographing Vero, Kowalski also keeps her camera close on vacation. She just returned from a trip to Oahu with her siblings. "My head was on a swivel," she wrote in a new blog on the Tiger Lily website. With the crashing waves before her and the cloud-draped mountains behind, she estimates she has over 1,000 images from that trip, waiting to be digitally developed and printed as fine art photography. Some of those will eventually ended up at Tiger Lily, she says.
"It was always my dream to travel for 'National Geographic,'" says Kowalski, who describes her younger self as "very, very independent." A "Navy brat" who moved frequently in her youth, Kowalski was living in Scituate, Mass., a coastal fishing village south of Boston. She was barely 20 and studying to be a teacher at a state college there when she hit a wall. "I was sick of Boston and I wanted to be somewhere warm." It was 1989 and Miami was her first choice, but she gave in to her mom and chose Orlando. "She thought it was safer." Kowalski bought a car and together with her mom, drove south. "It was heartbreaking," she recalls. "I cried all the way to Virginia. My mom was asking, 'Are you sure you want to do this?' I told her yes, Mom. And then I focused on what I was going to do."
Her mom stuck around until she found a job (as a cashier at Disney) and a roommate – a girl who played the character Mickey Mouse. She also enrolled at University of Central Florida "so I wouldn't flounder," she says.
Two years later, she got a job as a cocktail waitress at Church Street Station. Jack Kowalski, it turned out, was working as a bartender, having graduated from University of Florida. When he left to go to law school at Alabama's Samford University, she followed him. They married while she was still an undergrad majoring in photojournalism. She too went on to the law school there.
Jack Kowalski continues as a partner with Burr and Forman, specializing in construction litigation.
It was a friend from law school, Vero native Andy Metcalf, who invited the Kowalskis to come check out Vero when he first heard they were interested in moving. He and his wife Merrin drove the couple around the Vero downtown, crossed the beach to Ocean Drive and took them for pizza at Nino's. "I said, that's it. Done," recalls Kowalski.
Kowalski's photos, and the artwork of the other Tiger Lily artists, will be on view along with dozens of other artists' works at downtown galleries Friday from 5 p.m. to 8 p.m. as part of the monthly gallery stroll.