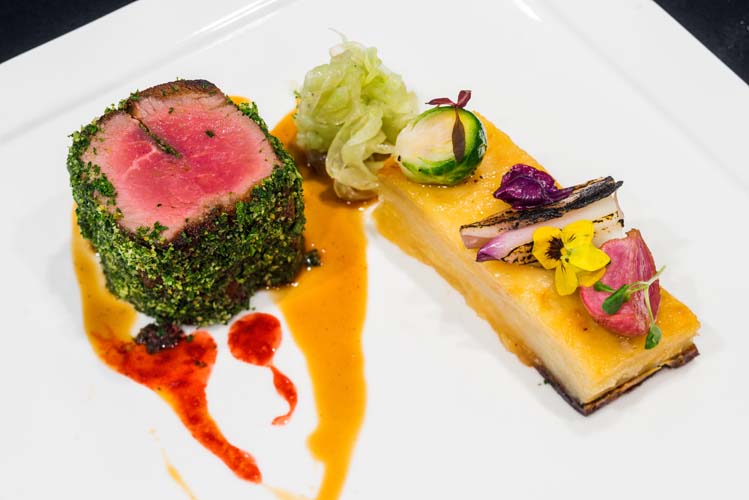 Avanzare, our favorite Tuscan trattoria in Vero's old downtown, continues to produce some of the most innovative and delectable dishes found in this area.
While a number of specials we have marveled at on previous occasions have established themselves as hard-to-resist favorites, we try on our visits to sample the latest additions to a menu that changes frequently.
So when we stopped by on a recent Thursday, our attention was immediately drawn to one of that evening's special appetizers – crimson beet linguine. "You're making linguine now out of beets?" I asked.
"No, no," replied proprietor and chef Roger Lenzi. "It's a new technique with the pasta. We roast beets, juice them, reduce them down, and then cook the linguine in the juice."
Since the beet linguine was served with a fois gras cream, mint, watercress, pistachio crumble ($12), it certainly sounded worth a try. My husband, however, stuck with one of his favorite Avanzare starters, the dirty oysters ($12)
The gulf oysters, topped with sour cream, shallots and caviar, were of course good – but the beet linguine turned out to be sensational!  Here's a new winner that I hope will enjoy a long run.
Then for entrées, I was initially a bit taken aback not to find the zuppa di pesce on the menu. This savory soup of sea scallops, mussels, clams, shrimp, calamari and fresh fish in a light tomato broth, tossed with linguini, is fabulous.
But I was intrigued by another of the evening's specials, artichoke, leek and truffle fettuccini ($18), so I decided to try that. My husband opted for another special, the Italian sausage and roasted peppers ($18).
The fettuccini was served with a very rich sauce of melted leeks, artichoke hearts, and truffled sheeps milk pecorino. This was not only a superb vegetarian dish, but a superb dish by any standards.
My husband also raved about the relatively thin Italian sausages, which were stuffed with aged provolone and served over roasted peppers and crispy garlic potatoes (yum).
On previous visits, we have enjoyed all of the house-made raviolis, which vary from night to night, and have been a distinguishing feature of Avanzare ever since it opened.
I can also still remember the night we first tasted another special, the short rib lasagna, which has been a fixture on the menu now for several years. The local seafood Avanzare features is always excellent.  The seared sea scallops are outstanding, and we have never gone wrong here ordering one of the veal dishes.
Dinner for two, with a modest bottle of wine, generally runs $90 to $100 before tax and tip.
For imagination in the kitchen – for creating dishes that on any given night, lead you to say "How did they do this?" – Avanzare year after year has offered some of the most interesting meals in Vero. A visit will not go unrewarded.
I welcome your comments, and encourage you to send feedback to me at tina@verobeach32963.com.
The reviewer dines anonymously at restaurants at the expense of Vero Beach 32963.  
Avanzare Restaurant
Hours: Monday through Saturday 5-9 pm
Beverages: Full bar
Address: 1932 14th Avenue, Vero Beach
Phone: (772) 978-9789
Photos by: Gordon Radford
Click HERE to see more or buy photos