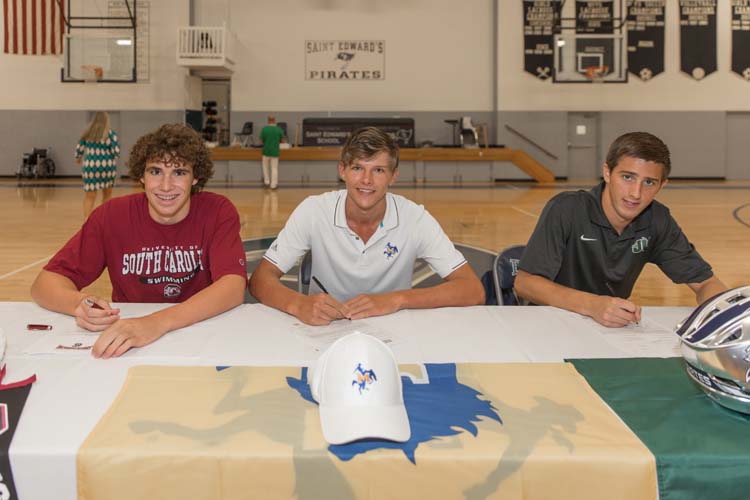 Three St. Ed's seniors signed national letters of intent Nov. 8 to display their athletic talents at Division 1 schools beginning next year. Typically, these achievements are reserved for student-athletes from high schools with much larger enrollments and profiles.
Alex Houk will play lacrosse at Jacksonville University. Trey Meadows will join the golf team at McNeese State University. Coleman Kramer will swim for the University of South Carolina Gamecocks. The signing ceremony underscored an ideal fit for everyone.
The high school swimming and golf seasons are over for Kramer and Meadows, respectively. Houk will complete his high school lacrosse career in the spring. Nevertheless, while all three have already been rewarded for years of hard work and dedication, they realize that must continue on an upward trajectory as they prepare for tougher competition next fall.
"I started playing lacrosse at St. Edward's in second or third grade," Houk said. "My cousins played here and one was an All-American. They got me involved early and I just really fell in love with the game – the physical aspect, the IQ aspect, all around it was just a lot of fun."
Houk played for Vero Beach High before transferring to St. Ed's as a junior. He felt the change was a necessary bridge to signing with a college program.
"At the end of my freshman year I started going up north to summer recruiting tournaments," he said. "At that point I realized I had some potential to play at the next level. I loved the game and if it could take me to the college that I wanted to go to, I was all about it.
"A lot of my friends transferred from Vero last year and that was the best season of my entire life. I loved every minute of the camaraderie, the brotherhood.
"All of my high school coaches contributed to where I am today, but Coach (Doug) Bailey here at St. Edward's really stepped my game up to where I needed to be to play at the next level."
Meadows and Kramer were also introduced to their sports via family guidance. Inner passion and the desire to succeed grew steadily from there.
"My dad is a club pro and I've always been playing golf, but I didn't start taking it seriously until about seventh or eighth grade, "Meadows explained. "I played in events outside of school and had a couple of good finishes. I got an awesome letter from the coach at McNeese saying that he wanted to talk to me.
"That's how it got started. He said he liked my game and how I continued to get better every year. I have a good work ethic so that's not going to be an issue. In college it doesn't get easier, but I am already pretty serious about the game. He liked that part too.
"When I got the offer from McNeese I absolutely wanted to go there because I'm originally from Louisiana. It was just a no-brainer.
"The players in college are really good so I've just got to keep grinding. I drive the ball fairly straight. That's my strong suit. My putting is getting better and I've got to continue to work on placement with my iron shots. I've got to keep doing the things I'm doing – only better and with more intensity.
"My time at St. Ed's has been awesome. My golf coaches, Mr. (Rick) Hartley and Mr. (Scott) Mohr, did a lot for me. I couldn't have had a better time with my senior classmates. It will be sad to leave, but I'm also excited."
Kramer finished second in the 200-yard freestyle and third in the 500 freestyle at the recent state championships. He is probably preparing at this very moment for the Junior Nationals in Knoxville next month. He explained how he got to this point.
"It started in 2006 when my mom took me to the pool," Kramer told us. "I didn't know what I was doing because I was so young. She told me to listen to Coach (Stephen) Fenning and then I just kept going and was kind of stuck on the sport.
That was sage advice. Fenning left for years in between, but would be the coach for the start and finish of Kramer's days at St. Ed's.
"I'm here in the pool from 5:30 until 7 in the morning and after school from 4 to 6:15," Kramer said. "At 6:15 to 7 I'm in the gym for weight work. I will probably concentrate on the 200 and 500 free in college.
"An assistant coach at South Carolina offered me an official visit and I fell in love with everything about the school. That's when I committed. I will miss St. Ed's and my teammates. It will be sad to leave because I've been doing this for so long, but I'm excited to go on to the next chapter in my life."