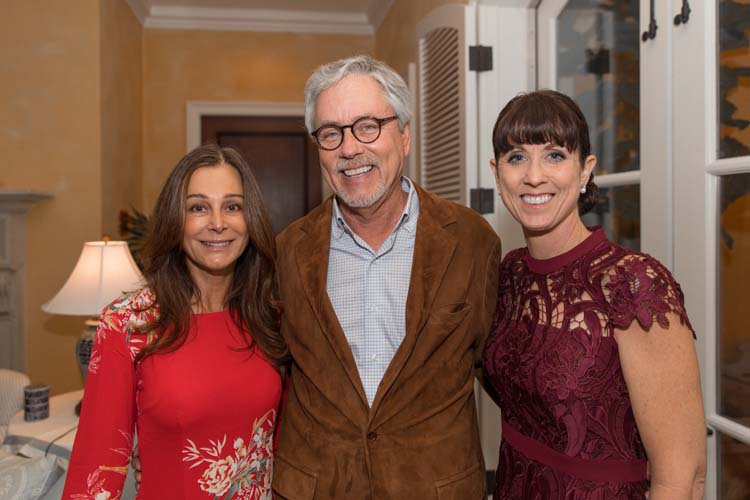 Carl Hiaasen knew at a young age that he wanted to be a writer. The New York Times bestselling author and Miami Herald columnist amused more than 100 guests with tales of his youth at the Love of Literacy Author Series to benefit Literacy Services of Indian River County, held last Tuesday evening at the Windsor Beach Club.
Hiaasen didn't disappoint the guests, who had braved the evening's inclement weather to get a firsthand account of his trademark use of humor, irony and exaggeration to expose humanity's stupidity.
The son of an English teacher, Hiaasen grew up surrounded by books; unaware until he was a junior in high school that there was a 'literacy issue.'  While volunteering with the Service Club he met an eighth grader who couldn't read and wondered, "How did he get to 8th grade without being able to read?"
Hiaasen added "If you don't have readers you don't have much of a democracy. Folks who don't read are not well informed; and when the uninformed vote in masses – bad stuff happens."
Admitting that most of his ideas are based on reality, he said, "I do poach shamelessly from the headlines. The biggest challenge for a satirical writer is staying ahead of the curve of weirdness. There are so many things that I have written that I thought were so bizarre at the time, yet they came true."
Michelle Servos, board president, said that since 1971 Literacy Services has been serving the one in five county residents who struggle with substandard literacy skills.
"The vision of Literacy Services of Indian River is to end generational illiteracy in our community," said Servos.
She introduced Roberto Garcia, who credits their volunteer tutors with helping him earn his high school diploma, obtain a driver's license and pass the citizenship test. Now 24, Garcia immigrated here with his family 14 years ago in search of the American Dream.
"I watched my parents struggle and I don't want to be in the same position," said Garcia, noting that his parents, who worked picking oranges, did not speak English. "Nobody in my family has been to college; I want to be the first one. I want to prove to myself that I can do anything in life."
The next Love of Literacy Author Series will feature author Michael Tougias, March 20 at the Vero Beach Country Club. For more information, visit literacyservicesirc.org.
Photos by: Denise Ritchie
Click HERE to see more or buy photos