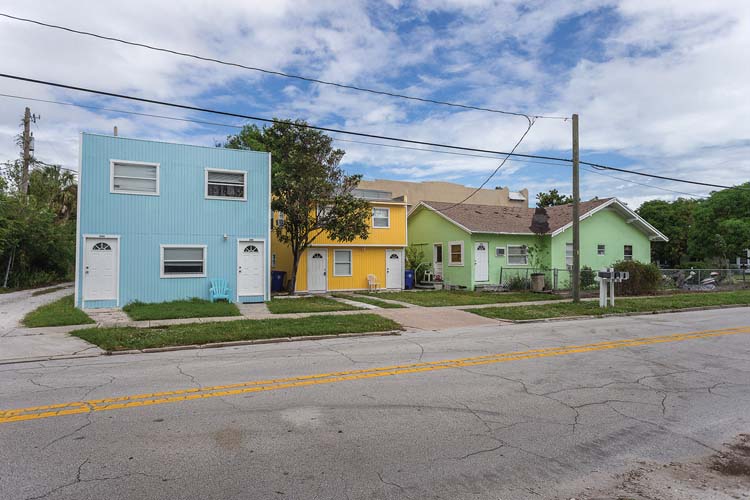 The draft of Vero Beach's updated comprehensive plan is hurtling toward Tallahassee for review and a quick turnaround, according to Planning and Development Director Tim McGarry. He said if big changes aren't required before final adoption, developers will be likely to "show more interest" in doing projects in the city in the future.
"I think . . . [developers] should be happy because we're trying to add flexibility and opportunities for infill and redevelopment projects while [also] protecting Vero Beach's unique quality of life," McGarry said.
McGarry added that the revised comp plan has "a menu of tools that helps the city and developers think outside the box."
One of the most powerful tools is "mixed use development" that allows a combination of land uses within areas that were single-use residential, commercial or industrial. Across the country, downtowns are revitalizing their cores with mixed-use projects.
Instead of workers evacuating downtowns at sundown as they head to single-use residential areas ringing a city, they travel a much shorter distance to downtown dwellings. Apartments above stores, restaurants or art galleries create neighborhoods where people live, work, play and watch out for each other. Everything is within strolling distance, further breaking down the social isolation a car culture tends to foster. In large urban areas, mixed use can significantly reduce fossil fuel use and road congestion.
Mixed use, said McGarry, is already allowed in three sections of Vero Beach. In 2015 the downtown area was zoned mixed use; the rezoned section extends three or four blocks either side of the railroad tracks and is bounded by Aviation Boulevard to the north and 17th Street to the south.
Cardinal and Ocean Drive became mixed use when a 2008 ordinance added an overlay zone on top of the existing commercial zone. Royal Palm Pointe was also zoned mixed use, and the change has helped make the three areas among the most walkable and interesting in the city.
The comprehensive plan update makes it possible for four other areas to be zoned mixed use: Miracle Mile, U.S. 1, Beachland Boulevard and the Cultural Arts Village, which encompasses a vintage residential district adjacent to downtown.
The first three areas are commercial zones that would allow hotels and residences above stores. In the Cultural Arts Village – which takes up 12 blocks south of the "Twin Pairs," including 18th Street, 19th Street and 19th Place, bounded by 20th Avenue to the west and 14th Avenue to the east – artists, musicians and other residents will be allowed to use their homes and outbuildings as studios and shops, where they can display and sell their work. Bed and Breakfast establishments will be allowed if the owners are in residence.
The comprehensive plan doesn't make land-use changes automatic, McGarry said. Each neighborhood will go through a rule-making process that includes participation by businesses and residents before new zoning ordinances are presented to the Planning and Zoning Board and then the City Council. Any zoning changes will have to be approved by the Council.
The plan update also includes greater use of "development incentives" to encourage reuse and renovation of neighborhoods, including "tax Increment financing."
One "TIF district" has been declared and others could be designated in the future under the guidelines of the revised comp plan.
The City Council made the downtown area a TIF district in 2015 when it determined the area suffered from blight and decreasing tax assessment values that would continue without capital investments. Any downtown property tax revenue increases from that time forward will be used for improvement projects within the district.
So far about $18,000 has accrued in the fund but that number will go up now that the American Icon Brewery has opened in the old diesel power plant.
"That is the biggest thing that has happened in the district" so far, McGarry said.
A tax advisory board has been formed to make recommendations to the city council about which improvement projects the city should pursue. TIF funds might be used to put in a turn lane to a new business, or to replace sewer and water lines, for example, enticing developers to come to the downtown area. The money in the fund has been too little to make much of a difference so far, McGarry said, but the brewery should boost the fund's bottom line.
Another development incentive is tax abatements, which the city council declared available to property owners in the Downtown district. Any improvement made to a building that increases the taxable value is tax exempt up to 10 years. Other neighborhoods could be considered for the same tax break.
Incentives for "infill" development, to keep new business downtown instead of increasing urban sprawl, could waive set-back or "Floor-Area-Ratio" requirements, McGarry said. If the building usually starts 25 feet from the front lot line, 10 feet might be allowed. If 10,000 square feet of land were required for a certain number of dwelling or business units, a greater number might be allowed, each application going through board reviews and public hearings.
The city has 180 days to pass the final version of the comprehensive plan after it gets the state's draft approval. "I hope it doesn't take that long," McGarry said.
The City Council approved the draft "transmittal" to the state at its Nov. 7 meeting by a three-to-two vote, with Tony Young, Dick Winger and Harry Howle voting yes, while Mayor Laura Moss and Lang Sykes sought more time for amendments.