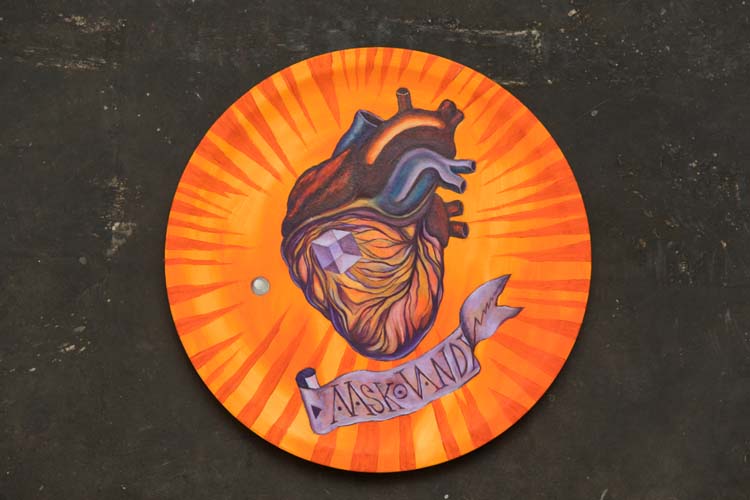 All this month and part of next, Raw Space, one of Vero's most unconventional art galleries, is showcasing artists' take on a very conventional object – the plate. And for much of the day on Saturday, the gallery is setting the table for families to celebrate the Vero-based initiative called the Plate Project. Benefiting Vero's Childcare Resources, the project evolved from the belief that a plate artistically created is a symbol of what nourishes us inside: intellectual reflection, love and solidarity.
The call for artists was answered by dozens of artists – one from as far away as Spain – with plates of wood and of clay, handcrafted and repurposed, square and round, according to Raw Space owner Neli Santamarina. "We sent out a call to artists to repurpose, reuse, manipulate or create a plate. The walls are all going to be full of plates."
In addition to the Spanish artist, Pablo Lanuza, sending his six square platters from Seville, Indian River Charter High School students and teachers have created more than 100 plates especially for the show. They and others went on display at this month's Gallery Stroll Nov. 3, and will be on exhibit through mid-December. In addition, this Saturday, the gallery will host an-all day festival celebrating the effort with family-friendly activities.
The collaborative philanthropic exhibition was developed through independent curator Silvia Medina's Art Concept Alternative and real estate broker Neli Santamarina's downtown gallery Raw Space. It will benefit Childcare Resources, a nonprofit dedicated to elevating and promoting quality early childhood development and education in Indian River County.
Childcare Resource's mission resonated with Santamarina. Focusing on economically challenged children and families, Childcare Resources provides a model for quality childcare and early education, supports and provides guidance to help maintain family stability, develops educational outreach programs to support early educators and provides tuition assistance for qualified families.
Santamarina created Raw Space as a multi-disciplinary arts venue. "Today there are plates on the wall and tomorrow we might have performance art, music, film or theater," she explains. "It's organically grown and it's been received with open arms by a lot of people. Not just this Plate Project, the whole Raw Space mentality behind it."
The concept for Raw Space was born of an experimental space Santamarina set aside for artists to "play in" in a small strip mall she invested in on Old Dixie Highway. After meeting several innovative young artists – most well outside the arts district norm – she came to a realization. "Vero Beach needs a multi-disciplinary art venue, which embraces the community, reaches out to the community and benefits children especially," she says.
That experimental space was dubbed Project Space and after Santamarina saw how beneficial it proved for the development and growth of arts in the community, she decided to take things one step further. She opened a much larger gallery next door, facing Dixie Highway with greater visibility. Lit but otherwise unadorned, she called it Raw Space.
The Plate Project is merely an extension of her vision with a community-outreach component.
"I feel that with the Plate Project it's important to do that outreach to the community for people to know this venue is here. We're here to do good things. We're here to open the artistic inventory. Doing different things that are hopefully going to change it up a little bit. I'll always push the buttons a little bit. Shake things up. Change is good as long as it's conscientious and sustainable."
As for using the plate as a prompt, artists like Vero's Barry Shapiro were quick to respond.
When asked to design a plate for the show, Shapiro approached it to make a social statement. His piece, "The American Table," seeks to raise awareness about childhood hunger.
"I started looking at the statistics of children who are suffering in this country from what they call food insecurity, which is a fancy name for starving. It was very disturbing and very upsetting. The more I looked into it, the more Isaid I have to make a statement," says Shapiro.
His interpretation consists of broken plates and bent silverware inside a glass-topped table. Edged with statistics and words, the table is meant to raise awareness of child hunger. "It may not be the most popular, pretty thing in the show. It's not supposed to be," he says. "It's supposed to be something people look at that will make them think."
Well-known potter and resident artist at Flametree Clay Art Gallery, Maria Sparsis, answered the call for the Plate Project with a large stoneware platter aptly entitled "At the Edge of the Sea."
Sparsis has captured sea-blue hued swirls at the center and a "sandy" rim. Between the color transitions lies a vast beach of shell impressions merging sand and sea.
"Raw Space is one of the best things that has happened to the downtown area. It's a very cutting-edge idea, and we're lucky to have it. I've seen some incredible exhibits there. I like that there's a new project every month and not the same artwork over and over again," says Sparsis.
Shapiro too has high praise for Santamarina and her gallery. "This is the only space like this in Vero," says the artist and former gallery owner. "This woman has done an incredible thing by opening it up and making this not just a gallery but an arts center. She gives opportunities to people where there would be none otherwise. The kinds of people that come here, the kinds of events that she brings in – this is a very incredible resource. It's a gift to Vero Beach."
The Plate Project exhibition runs through Dec. 15. Artists paid a $35 exhibition fee, and the plates are for sale for between $10 and $500.
Saturday's Plate Festival is from 11 a.m. to 6 p.m. at the Raw Space Plaza with food, music, plate painting, performances, puppets and face painting. Raw Space is at 1795 Old Dixie Hwy., Vero.