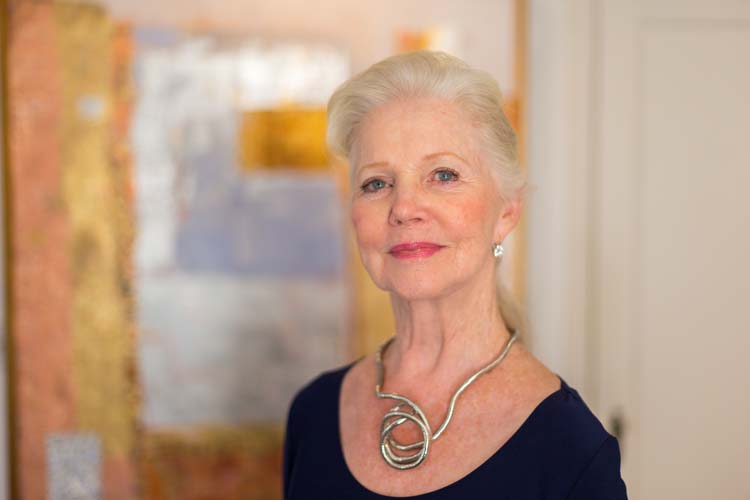 The warm glow you will feel stepping into the Vero exhibition of Doraté Muller's latest paintings comes not only from the earthy colors and gentle geometric abstractions, but also from the shining gold- and silver-toned metal leaf that is used in many of the mixed media canvases on display.
The Center for Spiritual Care exhibition, called The Healing Within, reflects what Matisse called "an art of balance," the subject matter not "troubling or depressing," but rather, "something like a good armchair which provides relaxation from physical fatigue."
Yet the story behind these creations belies the unruffled mien they present to the public: They represent the artist's finding herself after a time of loss. Doraté's husband, Leonard, died in early 2015.
"I am very proud of this body of work," Doraté says, and adds that the paintings in the show are "very, very recent."
Most of the 30 works on display were made within the last five or six months. That's how long ago the artist got an invitation from the Center for Spiritual Care's director, Carol Ludwig, to show her work there.
Doraté credits fellow painter Tim Sanchez with helping her get back to work in the months following her loss.
"Tim Sanchez has been my mentor and a very good friend to me. He told me, 'I've been in that boat, when you don't even want to hold a paint brush.'"
Doraté says that Sanchez would critique her tentative efforts to resume painting, gently prompting her to take the next step in her creative journey.
"He is an incredible teacher, who teaches without you knowing he is teaching you. He makes suggestions and it's up to you to take them."
Doraté's "Step into the Light" is a visual summation of the artist's assertion that she has "stepped into another plane" in her art. The 42-inch square painting is almost entirely covered in silvery metal leaf. Textures that she applied under the leaf make the work's shining surface look like a finely wrought relief sculpture. Over this, a collage of pink and yellow canvas scraps appears like a flotilla of boats on a glittering sea, or a celestial village in Paradise.
Most of the abstract works have an architectural underpinning to them and, to make her sources clear, the artist is showing along with the abstracts some smaller paintings of home interiors. On the gallery's south wall, a trio of pictures includes "Interior VI (Hall into Living Room)" and "Interior III (into Bedroom)" hung one above the other to the left of the long vertical of "Abstract Interior." The former recalls the elegant, light-filled interiors of Vuillard's later years; next to those paintings, the latter can be read as a high-ceilinged room hung with rectangular "pictures" and furnished, in the lower third of the composition, with velvety blue and deep fuchsia armchairs.
Amidst the glitter of the other pictures, one of the most magical on display contains not a glimmer of metal leaf. "Passage IV (diptych)" presents the best of Doraté's abstract and representational worlds in two conjoined canvases. Painted in various hues of blue, warm ochre and white, the complex painting appears at first glance to be a geometric abstract. Gaze upon it a little longer, and the figures and faces of people in an atmospheric space come into view. Whether those figures are strolling on a shop-lined street in fin de siècle Vienna, or milling about in the gloom of a museum whose lit cases hold untold treasure depends entirely on the color of your imagination.
In the past Doraté found inspiration for the amorphous quality of her "Passages" series of paintings in Viennese Secessionist Gustav Klimt's figural works, where figure and ground are subsumed in an all-over composition of decorative color and pattern. Today she has an additional reason to add works to the continuing series.
"If it has an inner meaning, a personal meaning, I give it the name 'Passage.'"
Born Dorothee von Berg in Goch, Germany, Doraté came to live permanently in the U.S. in 1960 and settled in Stanford, Conn. There she began lessons in watercolor, which soon became the medium in which she excelled; she still owns her first successful painting, a spray of flowers.
Since moving to Vero Beach seven years ago, she has added other water-based media to her repertoire, as well as oil paint. Her use of oil began when she learned that "Vero Beach does not want glass in front of their paintings."
No glass obscures the artworks in "The Healing Within," all of which are executed on stretched canvas and presented in narrow contemporary frames. The two "Passage" paintings and all the interior pictures are oil, and the ones with gold, silver and copper leaf on them are done in acrylic because, according to the artist, the leaf adheres better to it.
But for Doraté, technique is merely the means to an end.
"Anytime I can provoke a feeling — any kind of feeling — with my work, that is success."
"The Healing Within" is on display through Nov. 27 at the Center for Spiritual Care at 1550 24th St., Vero Beach.