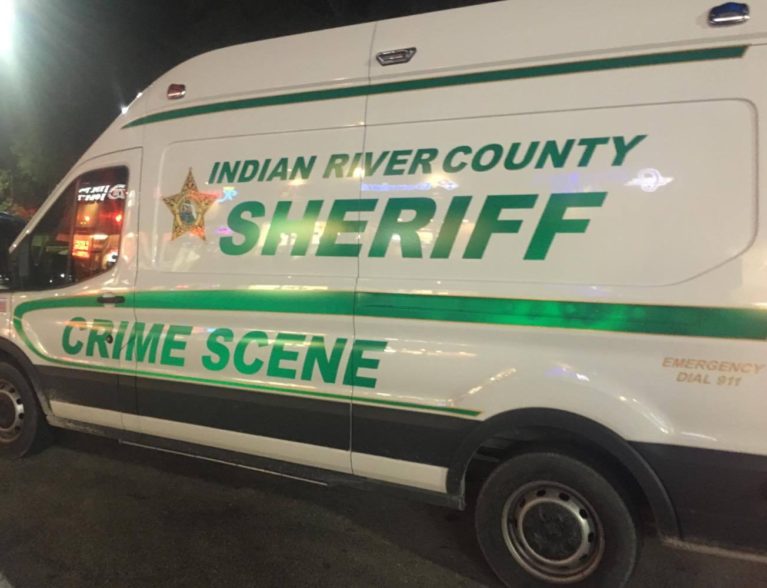 INDIAN RIVER COUNTY — A man is dead after a suspect fired rounds into his car Thursday evening, according to the Indian River County Sheriff's Office. The shooting was described as a possible road rage incident.
The man was identified late Thursday as Dennis Wayne Hicks, 38, of Fort Pierce, sheriff's spokesman Lt. Thom Raulen said. Detectives interviewed the man who shot Hicks for several hours, as well as the woman passenger in his vehicle and witnesses.
Even though the investigation remains active, the couple was released. The car they were in and Hicks' car will be placed into evidence.
Neither the shooter's identity nor the motive for the shooting were released.
Deputies got a series of 911 calls of the shooting about 7 p.m. at the State Road 60 and 53rd Avenue intersection, in front of Applebees and Walmart. Upon arrival, deputies found a deceased man, later identified as Hicks, lying in the roadway next to his red car, Raulen said.
"His door was open and his windows were shattered," Raulen said. A man believed to be the shooter and a woman passenger pulled off the road in to a nearby parking lot and called 911 to report the shooting.
Both waited for detectives to arrive at the scene and are being questioned. Deputies don't believe anyone else was involved.
The number of times Hicks was shot and details on what the man and woman told detectives were not available. No other passengers were in Hicks' car.
No charges were filed as of 11 p.m. Thursday.
.Indian River County Sheriff's Office Lt Thom Raulen gives more details on fatal shooting.

Posted by Nick Samuel on Thursday, November 16, 2017
The suspect and Hicks were stopped at a traffic light facing eastbound toward 53rd Avenue at the time of the shooting.
The suspect, who was in a Mazda, reached out the window and fired several shots from a handgun, according to Raulen. Raulen said the shooting was not random and that the suspect was aiming at Hicks.
Hicks vehicle and another vehicle traveling westbound past the scene were struck by the gunfire. The westbound vehicle was driven by a father with his 3-year-old son; they were not harmed.
A witness told deputies of an "altercation" between the suspect and Hicks' vehicles before the shooting.
"The witness behind them said something was happening as they were coming down the road," Raulen said. "Arguing or some sort of road rage, but we still don't know."
Deputies think the altercation began in the area of State Road 60 and 58th Avenue.
A large crowd had gathered near the intersection toward what appeared to be a body wrapped under a white sheet. Hicks' vehicle, plus another vehicle driven by another witness, were surrounded by crime scene tape.
Several shell casings were found in the road, Raulen said.
Details on if the suspect and Hicks knew each other were unknown. State Road 60 between 58th and 53rd Avenues will be blocked off for several hours and detectives will remain on scene overnight, Raulen said.
Applebee's manager Ke'an Black described the shooting as "shocking" and a rare occurrence for the area. He said he saw people outside at the scene trying to flag passersby down.
"Unfortunately there was nothing else we could do but call 911," Black said.
Black said a patron who was just leaving ran back inside the restaurant and told him about the shooting.
More patrons looked outside across the street and saw deputies putting the white sheet over the body.
"Lots of employees were stressed by the situation, especially with all of the mass shootings happening around the country," Black said. "Lots of them live right across the street. When the sheriff's deputy came in and told us the person was in custody, that put a lot of us at ease."
Applebee's Manager Ke'an Black talks about fatal shooting that happened just several feet away from the restaurant. A man is dead and another man and woman are being questioned. The shooting happened at State Road 60 and 53rd Ave and is being described as a possible road rage incident. More as this story develops.

Posted by Nick Samuel on Thursday, November 16, 2017
Domino's Pizza manager Carl Knazik said he saw people crowding around the area and screaming. He said he saw the suspect pull his car around in the parking lot, which is directly in front of Domino's.
"Cops came and surrounded his car," Knazik said. "He put his hands out of the window and they detained him."
Knazik, who has managed the pizza place for 14 years, said he has never seen an incident like this in the area.
Any witnesses or anyone with additional information are asked to call Sheriff's Detective Ismael Hau at 772-978-6113 or the agency's main number at 772-569-6700.
Photos by Nick Samuel
No further information was available.