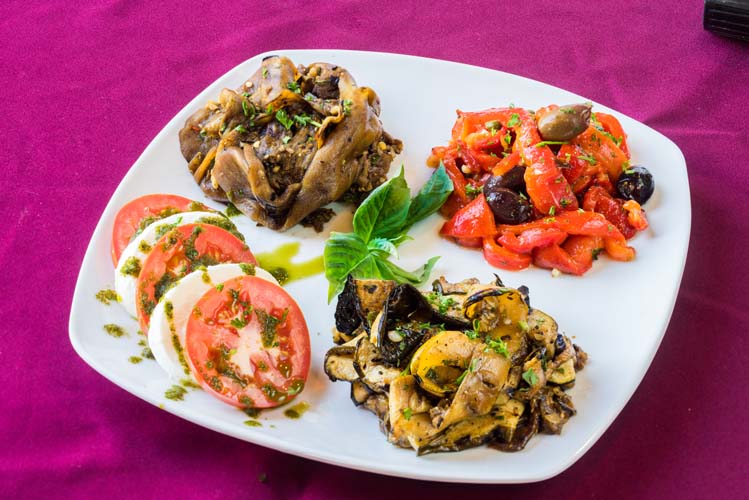 In the half-dozen years since it opened, Johnny D's Market and Bistro – in the white and blue building on South A1A – has become a popular neighborhood restaurant among residents of South Beach.
Night after night, a goodly crowd can be found dining in this easygoing Tuscan bistro, enjoying a dependable variety of well-prepared veal, chicken, seafood and pasta entrées, most very reasonably priced.  Their pizzas also are among the best around.
We've found on a variety of visits that an excellent way to begin an evening at Johnny D's is by ordering one of their starters. The Sambuca-steamed Prince Edward Island mussels are a particular favorite of mine, served with tri-color bell peppers, Bermuda onions, and leeks in a Sambuca basil buerre blanc (yum).
But on our most recent visit, I decided to start with the antipasto della casa ($12), and my husband opted for the calamari vesuvio ($13).
My antipasto consisted of house marinated grilled zucchini, eggplant, fire roasted bell peppers, Kalamata olives, fresh mozzarella and vine ripened Roma tomatoes. Very nice. And my husband's calamari vesuvio was delicious – calamari simmered in a spicy broth of tomatoes, herbs and hot peppers.
We then enjoyed Johnny D's simple house salads, one served with either a creamy onion and the other with a sun-dried tomato balsamic dressing.
For entrées, I ordered an old favorite, the zuppa di pesce ($26), and my husband decided to try one of that evening's specials, trigger fish ($24) garnished with shrimp.
Shortly after we ordered, however, the waiter came back and said they were out of mussels (there must have been a run on that mussels appetizer) and asked if I would like to proceed with the zuppa di pesce with more clams added instead. I said "sure" but in retrospect, I probably should have switched to another dish.
Absent the mussels, the calamari and shrimp in a bianco sauce (Johnny D's version of the zuppa doesn't include fish) were overwhelmed by the chopped clams they added to augment the Little Necks.  Not exactly the zuppa di pesce I remembered and love.
My husband's grilled trigger fish, on the other hand, was excellent.  You don't see this fish, found in relatively shallow waters off our coast, on restaurant menus very often, and it is excellent eating with a firm white flesh that has a sweet, buttery taste.
No review of Johnny D's would be complete without mentioning the bistro is also continuing to serve its excellent prix fixe, offering soup or a salad, and a choice of 16 entrées, for $16.
During the offseason and into the fall, you can take advantage of these specials all evening. During season, you need to be seated by 6 p.m.
And while it is not part of the prix fixe, you don't want to leave without trying a slice of Johnny D's limoncello mascarpone cake – a definite 'don't miss.'
I welcome your comments, and encourage you to send feedback to me at tina@verobeach32963.com.
The reviewer dines anonymously at restaurants at the expense of Vero Beach 32963. 
Johnny D's Market & Bistro
Hours: Nightly 5 pm to 9 pm
Beverages: Beer and wine
Address: 1409 South A1A
Phone: (772) 234-4181