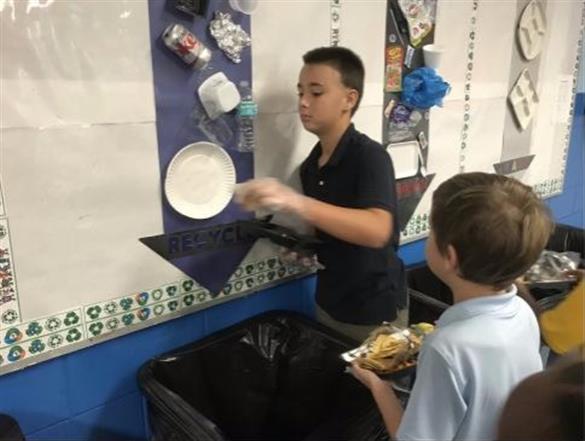 SEBASTIAN — A local school's efforts in creating a healthier environment earned them a "Green Apple" designation from the Florida Green School Designation Program, according to local school officials.
Pelican Island Elementary School was among five other Florida schools that were designated as a Green Apple School Nov. 6, 2017, by the Florida Department of Environmental Protection. The school is located at 1355 Schumann Drive, Sebastian.
The recycling team at the school, led by 2nd grade teacher Jessica Kirk and supported by resource teacher Sue Flak, regularly collects and weighs the recyclables in the cafeteria and around campus, according to principal Christopher Kohlstedt. This is done to monitor how much waste vs. recyclables is used so that waste can be reduced and more materials can be recycled.
"We are very proud of our students and our school in their environmental efforts," Kohlstedt said.
Kirk, who assists in managing the project, said the school first became a Project Learning Tree School a couple years ago when staff decided to focus on ensuring that students become lifelong learners of ways to help protect the environment.
The school community accomplished this by implementing several activities such as grade-level planting, school beautification days, composting and recycling, according to officials.
"With these activities, students have an understanding that within the bigger picture, the small steps we humans can take to better the Earth," Kirk said. "I got involved by entering our school in the PepsiCo Rally Challenge. I believed that our students needed to see the process of collecting and documenting recyclables at our school, rather than just putting cans and bottles into a bin and not knowing what happens to them afterwards."
Flak, who initiated the project, said she thinks "this is a vital and wonderful opportunity for our students to become ambassadors for our environment."
"We are putting it in their hands," Flak said.
The Green School Designation Program recognizes Florida schools that are protecting the state's natural resources and demonstrate environmental improvements through a 4-level tiered designation. Schools can obtain different "Apple" levels based on the requirement of each tier.
"All schools start at the Green Apple level, then work their way to Bronze, Silver, and eventually Gold Apple status by implementing additional best management practices," the FDEP site states.
The goal of the Florida Department of Environmental Protection is to raise awareness and have students become ambassadors, school officials said. "Green Teams," consisting of students and adults, are formed throughout the school.
The team focuses on topics such as waste reduction, reusing and recycling, energy consumption, water conservation, air quality and transportation. Students keep data and record information for their program, maintain and make changes.
The FDEP will visit and evaluate the campus to see which areas meet program standards and which need improvement. When the process is completed, which could take up to three years, the school becomes a green school.
For more information about the designation program, visit the Florida Department of Environmental Protection site.