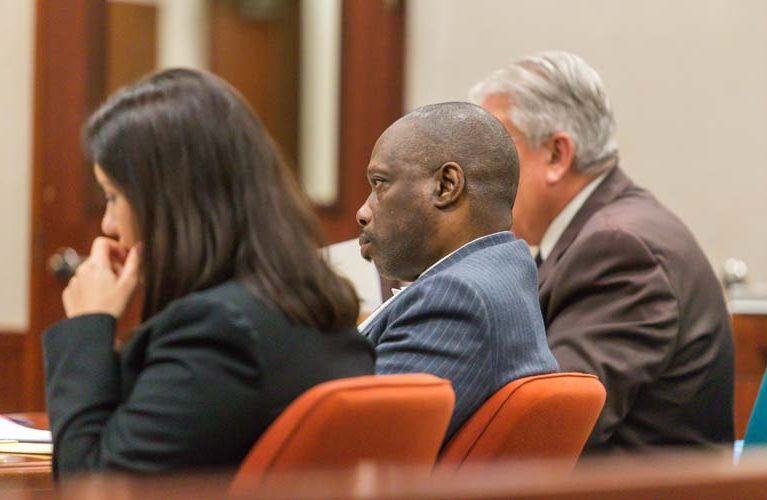 A man who punched and shot an Indian River County sheriff's deputy was convicted last week of first-degree attempted murder of a law-enforcement officer. He faces up to life in prison for his involvement in the 2015 shootout.
The trial came two years after Deputy Chris Lester was shot in the leg during a routine, early morning traffic stop. Events turned violent after Andrew Coffee Jr. refused the officer's command to keep his hands on the patrol car.
The incident was recorded on the officer's dashboard camera, which was repeatedly played for the jury. During one viewing, someone in the courtroom gasped in shock.
In the scene shown, Coffee Jr. punches the deputy in the face so hard he knocks him to the ground, causing the officer's glasses to shatter and flashlight to drop. Coffee Jr. then reaches into his waistband and pulls out a 38-caliber revolver and both men start shooting, wounding each other.
Lester, now a detective with the Indian River County Sheriff's Office, testified that Coffee Jr. advanced toward him with his gun drawn as the deputy struggled to stand back up. "As soon as he fired the first round, I began to return fire," he said.
The officer said he feared for his life as he struggled to find cover and reload his weapon. All he could think about was his training, his family and getting home safely to his wife, he said.
The trial consisted of two days of emotional testimony as law-enforcement and one witness – a homeless man sleeping on the sidewalk – recalled the harrowing morning.
Prosecutors argued Coffee Jr. intended to kill Lester to avoid arrest. He continued to shoot as the injured deputy limped away, they told the jury. "He fired a gun at him four times," said Thomas Bakkedahl, chief assistant state attorney.
The defense countered that while Coffee Jr. shot his gun, it was errant fire and his intent was not to kill the deputy.  The 54-year-old declined to testify at the trial and defense counsel called no witnesses on his behalf
Coffee Jr. also was convicted Nov. 1 for crimes of battery against a law enforcement officer and illegally possessing and discharging a firearm. In addition, he plead guilty to being a felon in possession of a gun.
The verdict marks the first conviction of three aggressive criminal cases law enforcement has brought against generations of men in the Coffee family.
Coffee Jr. is the grandfather of Andrew Coffee IV, the 23-year-old who was charged with murder in the second degree for the death of his girlfriend, Alteria Woods, after a S.W.A.T. drug raid in March turned into a shootout with police. The grandson also faces charges for attempted murder of a law-enforcement officer stemming from the early morning raid.
His father, Andrew Coffee III, was the target of the search and is charged with numerous drug offenses.