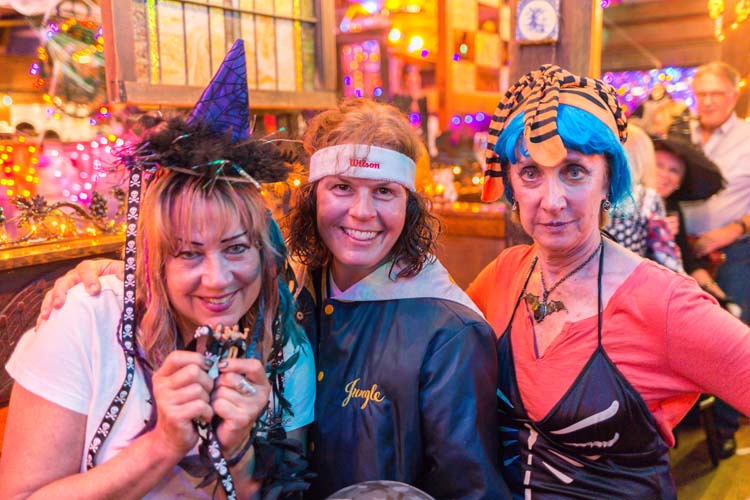 Anyone who thinks dressing up for Halloween is just for the kiddies has never been to Ocean Grill on All Hallows' Eve, which has been drawing costumed revelers for more than 20 years. It's especially fun for the wait-staff who go all out, competing for best costume honors while efficiently serving roughly 450 dinners in addition to a huge bar crowd.
Rose Dean, a bartender at the front bar who has worked at the Ocean Grill for 25 years, continued her winning streak, earning the top prize for the sixth consecutive year. This year's Madame Butterfly creation featured a delicate headdress of dozens of butterflies which fluttered about as she quickly and expertly served patrons packed several deep at the bar.
"It's definitely the busiest bar night of the whole year, by far," said Dean, adding that many people book their dinner reservations a year in advance. "It's like Valentine's Day and Christmas all wrapped up together. It doesn't even matter that it's on a Tuesday; people still come out."
Dean was a teenager when she first started work there, coincidentally in October, but said it wasn't until a few years later that things really took off.
"Everyone I work with is really creative," she said. "Talk about Halloween costumes comes up as soon as the decorations go up; everyone has fun with it. I keep mine a secret, but it's always a popular topic of conversation amongst everybody."
This year's second-place winner was Zachery Trudnak, seeking a 'section 8' as an evening-gowned Cpl. Klinger from M.A.S.H., and third place went to the ethereal angel Elizabeth Maresca, dressed all in white with a trumpet, halo and lighted wings.
Other favorites included Kyle Smith, aka Bob Ross Trich, channeling the late Bob Ross (TV host of "The Joy of Painting") as he nimbly navigated the crowd, holding the reins of a blow-up 'ostrich' in one hand and trays of food and drink in another; a white jump-suited Elvis, aka Norman Mabbitt, "Thank you very much"; and Kayleigh Nanny, who made her own elaborate deer costume.
Patrons – such as Erik Feightner, who was born on Halloween – got into the act as well. Dressed as Luke from Star Wars with Yoda hitching a ride on his back, he was celebrating with Teresa Przybysz, aka Star Wars' Rey.
Noting that they've come every year since 2011, Feightner added, "It's nice to see an establishment in town really go out of their way to welcome everyone, with this and also what they do at Christmas."
Other perennials included Don and Diana McConnell – he wore a full hammerhead shark costume, and she was a mermaid – who come every year with friends Alan and Becky Gregory, aka John Wayne and Miss Kitty.
For the past 10 years, Milley LaCanfora and Carin Fedderman have reserved a table for Island Club of Vero Beach friends; 12 attended this year, including Lucille Pew as a frightening looking bride.
"This is the coolest place in town, isn't it?" said Sue Scully, seated at yet another long table filled with friends. "I love Halloween here."
Next up, an explosion of festive Christmas decorations will be finalized by the Sunday after Thanksgiving, Nov. 26.
Photos by: Gordon Radford
Click HERE to see more or buy photos