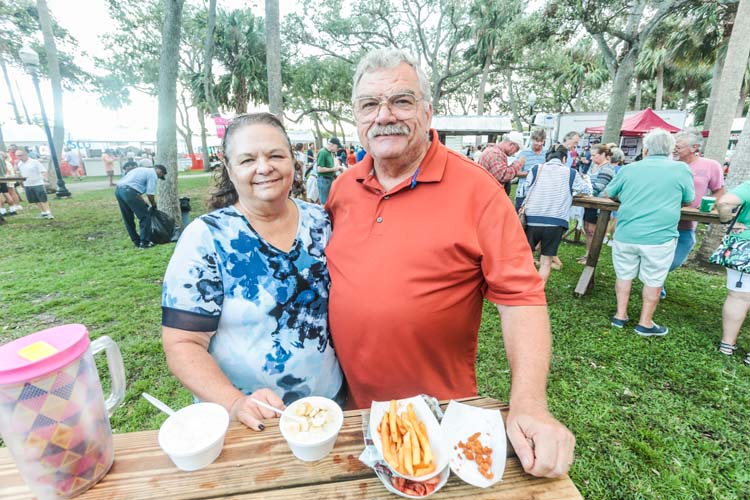 The crowds pouring into Riverview Park last weekend for this year's Sebastian Clambake Lagoon Festival were a clear indication that its theme – America Runs on Clams – was spot on for Indian River County residents and visitors. Gina Belli came up with this year's theme, which was highlighted by artist Lisanne Robinson on a delightfully colorful sea-to-shining-sea design.
Founded in 2002, the Sebastian Clambake Foundation hosts the annual fundraiser to honor the yummy mollusk that once played a significant role in the Sebastian fishing industry.
Connoisseurs enjoyed a bevy of clam-based concoctions, including favorites such as linguine with red or white clam sauce, clam chowder, fried clams and steamed clams, as well as other seafood offerings and dishes for landlubbers. To wash them down, Sebastian's own Pareidolia Brewing Co. brewed up two unique craft beers, ClamaJama IPA and Digger's Golden Ale.
Filled to the gills, festival-goers also enjoyed performances by the rousing Sebastian River High School Drumline, watched various demonstrations such as those offered by the Sebastian Police K-9 Unit, got mini history lessons visiting with volunteers at the 1715 Castaways' Survivor Camp, and perused the numerous vendor booths to get a jump on holiday shopping. And throughout the three-day event, local bands kept things lively, entertaining the crowds with everything from country music and jazz to the Beatles.
Over the past 17 years, the foundation has granted more than $675,000 to local nonprofit capital projects. This year's grant beneficiaries are the Economic Opportunities Council, Kashi, Roseland Ecumenical Food Pantry, St. Sebastian Catholic Church, SRHS Rowing Club, Sebastian Soccer and Treasure Coast Rugby Foundation.
Photos by: Gordon Radford
Click HERE to see more or buy photos