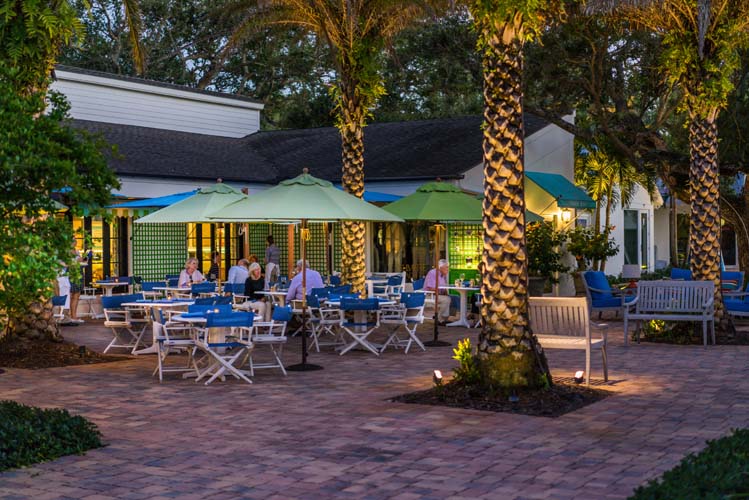 It was a perfect Vero fall evening, and as we discussed where to relax with a glass of wine after a stressful day, it seemed almost unimaginable to not dine al fresco.
So off we went to the Village Shops, which Jay and Joan McLaughlin have tastefully restyled into an oasis of boutiques set among oaks and palms in the heart of Indian River Shores.
As we approached the Citron Bistro, the McLaughlins' clubby trattoria where the food is consistently as good as any around, it quickly became apparent that others had beat us to the idea of dining under the stars.
But happily, the hostess had one unreserved table in the courtyard, and we settled down under one of Citron's colorful blue and green umbrellas to the task of recovering our equilibrium.
As fortune would have it, we didn't have to look very far.  There on the wine list was a bottle of Equilibrium ($46) just waiting to be ordered.
This lighthearted white blend – a combination of sauvignon blanc, chardonnay and muscat – turned out to be just the thing to restore a "state of harmonious balance," and it subsequently paired mighty well with the food.
For starters on this evening, I went with the house salad ($7) and my husband ordered the Caesar ($7). My salad was a mix of Arcadian greens, sweet drop peppers, cucumber, shredded radishes, shaved red onion, parmesan, tomato and olives, served with a balsamic vinaigrette. My husband's Caesar was the classic rendition of this dish. Both very refreshing.
Then for entrées, I decided to try the pan-seared black grouper special ($36), and my husband chose the fresh catch, which this evening was swordfish ($29).
My grouper was grilled with a white beurre blanc and served atop a bed of jasmine rice.  It was accompanied by grilled asparagus drizzled with a white balsamic. My husband's pan-seared swordfish was also grilled (you can get it blackened if desired) and was served with a plantain-sweet potato mash, haricots vert and carrots.
Both seafood entrées were gorgeous pieces of fish, nicely seasoned, and cooked to perfection.
On this visit, we decided to forgo Citron's house-made desserts, which we have enjoyed on many occasions.
In addition to Equilibrium, the Citron Bistro offers a more than adequate selection of beers and wines. The only thing lacking is a liquor license that would allow diners to enjoy a pre-dinner cocktail. With an appetizer, entrée and a modest bottle of wine, a party of two should be able to dine at the Citron Bistro for about $110.
Whether you wind up dining inside or out, the McLaughlins have given residents of the northern side of our island a "neighborhood joint" for a pretty nice neighborhood.  In a manner similar to their restaurant on Manhattan's Upper East Side (which is going strong after more than 30 years), we would describe Citron Bistro as an "under-the-radar" gem.
For those who have not yet discovered it, a final reminder to make reservations in season and to come on the early side.  Citron Bistro's agreement with Indian River Shores is that everyone will be out and on their way home by 9:30, meaning that diners are not seated after 8 p.m.
It seems a bit early to us as well, but I reckon it is a small price to pay to have a great neighborhood bistro in the Shores.
I welcome your comments, and encourage you to send feedback to me at tina@verobeach32963.com.
The reviewer dines anonymously at restaurants at the expense of Vero Beach 32963. 
Citron Bistro
Hours: Daily, 5 – 8 p.m.
Beverages: Beer and wine
Address: 6260 North A1A, Indian River Shores
Phone: (772) 231-6556