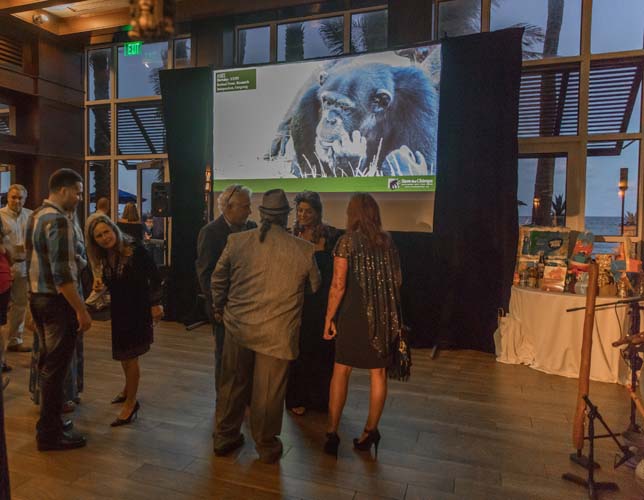 Guests went bananas last Thursday evening at the ninth annual Chimps Kitchen: A Local Celebrity Chef Tasting fundraiser to benefit Save the Chimps. The entire Cobalt Restaurant at Vero Beach Hotel & Spa was utilized for the event, which raises funds and awareness of the 150-acre sanctuary in Fort Pierce, home to nearly 250 rescued chimpanzees.
Returning event co-chairs Laura Guttridge and Judy Van Saun organized yet another fabulous evening, where guests sipped on banana daiquiris, perused silent-auction items and nibbled on the various chefs' creations while listening to the sounds of Duo Vida, whose musicians use an eclectic mix of ethnic instruments to create hauntingly lyrical music inspired by the environment.
Chefs from Cobalt Restaurant, Frostings, Grind & Grape, The Moorings Yacht & Country Club and The Raw Vegan Life Coach whipped up gourmet treats to delight the discerning palates of nearly 200 gourmands, who noshed on dishes such as shrimp and swordfish tacos, a pasta bar, vegan pad Thai, and a scrumptious array of desserts.
Among the items up for auction were behind-the-scenes experiences at STC, vacation getaways, spa and beauty packages, dining packages, artwork and jewelry. Also available were one-of-a-kind creations by the sanctuary's resident artists who, as part of their mentally stimulating activities, use paintbrushes, fingers and even their tongues to create unique, colorful designs.
It comes as no surprise that homo sapiens are fascinated by chimpanzees. Given the 98.6 percent DNA match to our simian friends, the similarities are uncanny. Despite or because of those similarities, chimpanzees continue to be exploited. For more than 20 years, the nonprofit has been providing quality care, meals, veterinary care, enrichment, and social companionship to chimps rescued from research laboratories, the entertainment industry and the pet trade.
"We have a real heart for abused animals," shared Carol Silverman, who volunteers at STC with husband Dr. Gary Silverman. "The chimps are compassionate and have emotion. You can see it in their eyes."
"Our work at Save the Chimps has reaffirmed our belief that they are very intelligent. I think they understand humans and even learn how to manipulate us to some degree," added Dr. Silverman.
Ham the Astrochimp, the first chimpanzee launched into space, paved the way for America's space program, and countless other chimps have been infected with diseases, used for head crash and trauma studies and have provided organs for transplants.
"The chimps that are in sanctuary have been through some of the most horrific experiences that an animal or a human could go through," explained Janet Rose, STC director of development and communications. "We're not doing that anymore, but there has to be a place for them. They can't go into the wild. For what they've been through and what they've given humanity we owe them something."
To commemorate its 20th anniversary, STC will host Sunset at the Sanctuary on Dec. 2, with tours and a champagne reception. For more information, visit savethechimps.org.
Photos by: Denise Ritchie
Click HERE to see more or buy photos