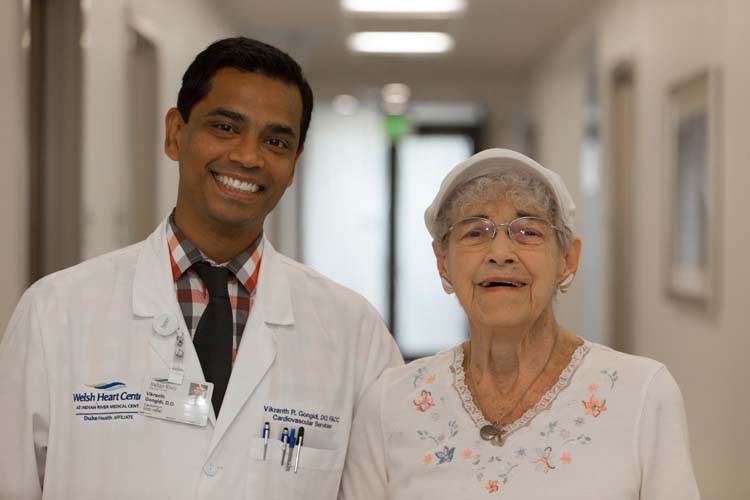 Eileen Barnum is pretty, petite and downright perky.
She's also 94 years old and she just had the aortic valve in her heart replaced by surgeons at the Welsh Heart Center in Vero Beach with a procedure that didn't even exist a few years ago.
That procedure, known as trans-catheter aortic valve replacement, or TAVR, allowed the hospital's surgical team to give her heart a brand new replacement valve by running a catheter through the groin instead of by the more traditional open heart surgical procedure that had been "the gold standard" for cardiac cases for decades.
Barnum, a fourth-generation descendant of legendary circus owner and showman P.T. Barnum, knows a little something about what constitutes "the greatest show on earth" and – judging by her smile – she might just be willing to cede that title to Welsh Heart Center team.
"Well, I was only in the hospital a few days," Barnum says proudly, "and I came home and I just went about my business and I've had no problems. None whatsoever."
Pausing briefly, she adds, "I will say, once I came home from the hospital, I got right back to doing what I always do instead of resting, so I was a little tired. But that's gone. Now I'm kinda normal."
That may not be the kind of quote you'd have seen on a 1920s-era circus poster from P.T. Barnum, but Eileen Barnum's cardiologist, Dr. Vikranth (Vic) Gongidi, couldn't be any happier with it or with his patients progress – or with the decision to opt for the TAVR procedure.
Traditional open heart surgery is a marathon that can last several hours. It requires general anesthesia, slicing open up the chest cavity, cutting out the damaged heart valve, stitching a new one in and then sewing up that hole in the chest. Recovery times often include a week or more in the hospital, and most patients won't resume their normal lives for two months or more.
Gongidi explains that with traditional open heart surgery, "We tell patients to restrict or limit their activities for at least eight weeks. Sometimes 10 to 12 weeks. With her, it was two days."
While two days is remarkable by anyone's standards, the more far-reaching and significant part of the story might be that heart valves damaged by stenosis or calcification in older patients like Barnum can now – given the right circumstances – be replaced in an operation that takes only about 30 minutes and requires only a tiny fraction of the recovery time.
Moreover, as Gongidi points out, in the not-too-distant past, "If you were over the age of 75, you would be hard-pressed to even find a surgeon who would do surgery on you."
Barnum sailed past that cut-off mark nearly two decades ago.
"We're lucky in this community," Gongidi continues, "to have Dr. [Mark] Malias and Dr. [Cary] Stowe who take on high-risk procedures or high-risk patients."
High risk or not, this was no snap decision.
As Barnum explains, "Dr. (Nancy) Baker sent me to Dr. Gongidi and whatever he saw on the pictures that he took, he decided that I should have this [TAVR procedure] and I wasn't going to argue."
Gongidi, rated a five-star cardiologist on Healthgrades.com, knew Barnum was "not a good candidate for open-heart surgery" so he ordered those "pictures," including CT scans. CT scans were essential because, as Gongidi explains, before undertaking the TAVR procedure, "We want to get a road map of her body before we go in there so we don't get surprised once we go in."
Maybe it was the thoroughness of Gongidi's preparation, or maybe it was his bright, reassuring smile, but this patient-doctor pair clearly formed a bond.
Barnum impishly calls Gongidi "my own personal cardiologist" before jokingly admonishing him for being too busy to take her out dancing.
Aortic stenosis is particularly common in people over 70, so the growing use of the TAVR procedure is certainly good news for the older but still young-at-heart like Barnum.
And with Barnum's heart now pumping far more efficiently than it was before TAVR, she is feeling – and looking – much better than just "kinda normal."
Dr. Vik Gongidi is with the Indian River Medical Center and the Welsh Heart Center. The phone number is 772-788-8687.