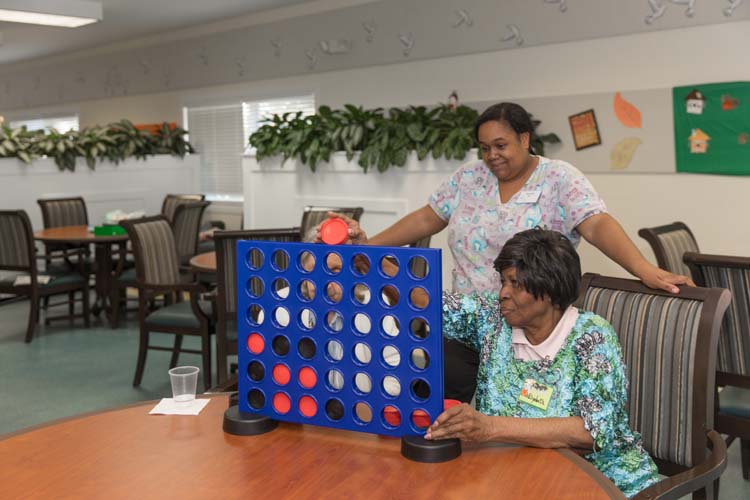 Stress is not a competition.
But if it were, people who serve as caregivers for spouses or other family members would probably have bragging rights over everyone else.
That includes those who care for loved ones suffering from dementia, Alzheimer's disease, brain injuries, stroke or any other cognitive disorder as well as those with physical disabilities who simply cannot be left at home alone.
Caregivers often suffer from denial. They try to convince themselves things will get better, but the truth is things probably won't get better. With Alzheimer's patients, for example, brain cells are degenerating and dying which causes an irreversible decline in memory and mental function.
Caregivers can also get frustrated and even angry at the very people they're helping. 'He or she,' they'll tell themselves, 'knows how to do this or that' so they can feel like their loved one is just being stubborn. They may then blame themselves for their resentment, which adds another emotional burden and leaves them feeling overwhelmed.
The result? According to the National Institute on Aging, each year tens of thousands of caregivers begin falling into their own spiral of social withdrawal, anxiety, depression, exhaustion and irritability.
The National Institutes of Health calls family caregivers "the invisible second patients" in a two-patient scenario and it recognizes that the effects of being a caregiver "are generally negative ones with high rates of burden and psychological morbidity as well as social isolation, physical ill-health and financial hardship."
Fortunately, in Vero Beach and in Sebastian, help is available through the Senior Resources Association's Adult Day Care Centers, where you'll find Karen Deigl, Shawna Callaghan, Vivian Johnson and scores of highly trained adult-care experts who can give family caregivers helpful advice and a much needed respite.
Deigl is the president and CEO of the Senior Resources Association, which operates the only state-licensed adult day care facilities in Indian River County. Callaghan is SRA's director of operations and Johnson is a certified nursing assistant whose broad smile seems to put everyone around her at ease.
Current caregivers can enroll their loved ones in SRA's Adult Day Care (where they are referred to as "clients" rather than "patients"), and Deigl is quick to point out some options.
"Not every [client] comes in every day." Deigl explains. "They can come for a few hours, they can come for half a day, they can come for the whole day or they can come for the whole week."
Deigl adds, "All of our employees are certified. They are either certified nursing assistants, licensed practical nurses or registered nurses. [So] we are able to administer medications," the client's physicians have prescribed.
The staff-to-client ratio, Deigl continues, is one employee to every five clients and, echoing NIH's stance on caregivers, SRA's Adult Day Care Centers also provides care plans for the caregivers as well as for the client.
Both of SRA's Adult Day Care Centers offer individual and structured group activities including exercise, music, current events and even dancing. According to Deigl, local entertainer "Hobo Jim comes in on a weekly basis, two times a week, at both places" and that seems wildly popular with most clients.
Callaghan then chimes in saying, "We have some collaborations we do, too. The Vero Beach Art Museum comes in and teaches an art class and the Environmental Learning Center comes in and does some environmental based [events], so the programming is varied."
There is also a computer clients can use, but at least in the Vero center, there is currently only one. Asked if they would turn down additional computer donations, Deigl's response is instantaneous: "Oh my gosh, no. Absolutely not."
Callaghan seizes the opportunity to add that iPads would also be very welcome, in no small part because there are senior-specific games and programs available for the new iPads.
Both the Sebastian and Vero Adult Day Care Centers are funded in part by the Florida Department of Elder Affairs, but Deigl points to Impact 100, the John's Island Foundation, the John's Island Service League and Dr. Paul Minotty's Minotty Foundation, as well as the local United Way, as being among the donation superstars helping SRA serve more clients and more home caregivers.
Whether it's the recently completed renovations of the Sebastian facility or furniture for both locations or dollars for "daycare scholarships" to help those who can't afford the $11 an hour – or $60 dollars a day – daycare cost, those donations allow Deigl to accurately state that Adult Day Care "is an amazing program. I just wish more people knew about it."
For more information, the Senior Resource Association is at 694 14th St. in Vero Beach. The phone number is 772-569-0760. In Sebastian it's at 815 Davis St. where the phone number is 772-388-5827. The Senior Resource Association can also be found online at www.seniorresourceassociation.org.