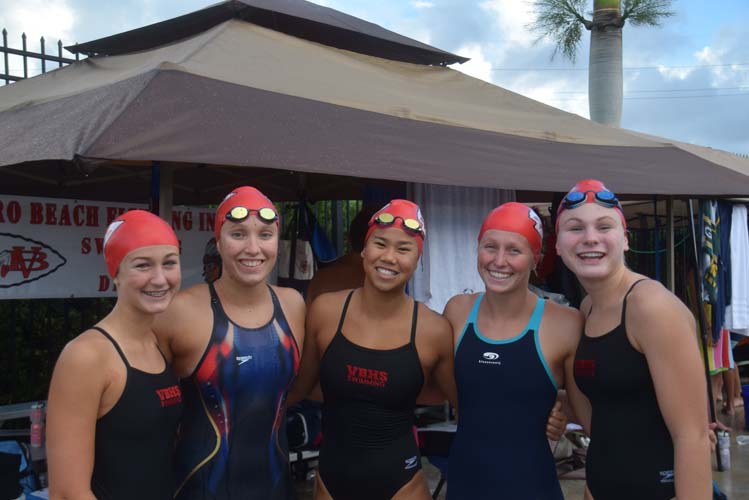 The Vero Beach High swim team entered the District 7-4A tournament last Friday at the North County Aquatics Center in Jupiter with a large contingent hoping to overtake reigning champion Jupiter High for both the boys and girls district titles.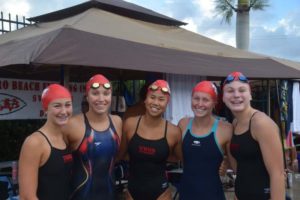 "Last year the boys team lost the district title by five points," head coach Gavin Ross said. "If we all come together, the boys are looking really good to win it this year.
"It will be much tougher for the girls, but if we win districts we've got a really good shot at winning regionals. I'm hoping to go top five and maybe even top three at regionals with the girls that I have."
So the expectations will be sky high, and if all goes according to plan, the Indians will be well represented at the regional and state meets.
Ross oversees a vast network of 56 swimmers and one diver on his VBHS roster. The serious swimmers train regularly with four different club organizations. There is also the usual array of casuals that show up for high school season only.
Thirty-eight on the squad were scheduled to participate in 64 individual events and six relay races at the district meet. A good number were high seeds, which means that Vero will send more than just a few forward in the postseason.
Some of the swimmers expected to lead the parade were named by Ross. For the girls he mentioned Elizabeth Richardson, Sasha Ross, Lindsey Minton, Samantha Ponce, Olivia Williams, Kendall Schlitt, Lily Shields and Shawna Dean. The list of boys included Corey Stepanek, Edward Perepetchai, Sam Ospina, Matt Pearsaul, Anthony Garcia and Zach Bregoff.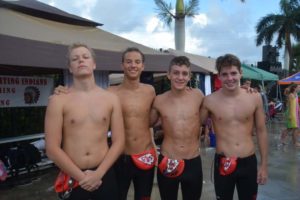 Senior Stepanek joined the team last year and was rewarded with immediate success.
That spurred him on to train even harder for this season.
"I had a great first season and defied the odds by advancing to regionals for the 100-yard breaststroke," Stepanek told us. "I decided to see just how far I could take that race so I swam all summer for Coach Gavin in his program at the Jungle Club. The club training was a great time to focus, get myself back into shape, and get one-on-one time with Coach Gavin.
"The VBHS team is an awesome experience. It's great to train next to some of my best friends. I was stoked when I was nominated to be a boys team captain because I had only one year of swimming under my belt – but I was ready to lead the team.
"The swim meets are a blast too," he said.  "It's really fun to be in a relay race with teammates trying to beat the other school together. It's also a great feeling to be at the last turn in a race and notice ten or so teammates cheering me on.
"For this postseason my goals are to advance to regionals in the 100 butterfly and to states in the 100 breaststroke. This would be the culmination of the training that I have been doing for the last five months. I have put everything I have and more into practice up to this point, and as Coach Gavin would say, 'I left it all in the pool.' I feel very prepared for districts and regionals.
"In the end my final goal is to drop a couple of seconds off my 100 breaststroke and advance to the state championship. I feel like I have put in the work needed to achieve that."
The coach would like to see that type of commitment and drive in all of his swimmers. "I've got a big bunch of freshmen that only swim during the high school season," Ross said. "All I can do is encourage them to go on even if they didn't make it to the district meet. If your goal is to make districts and regionals with VBHS, you pretty much have to swim all year round with a club program. This team is that strong."