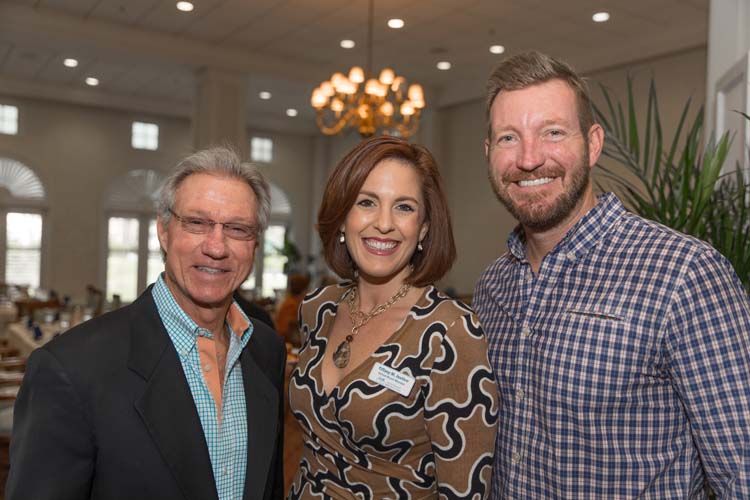 A powerhouse gathering of business and community leaders, nonprofit representatives and politicians gathered at the Oak Harbor Clubhouse last Wednesday for the United Way of Indian River County Community Leaders Breakfast and Spirit of Indian River County Awards Program, sponsored by Florida Power & Light.
Tom Manwaring was honored with UWIRC's most prestigious recognition, the Ralph T. King Award, for his steadfast commitment to the organization. Board Chair Susan Adams noted that Manwaring has served in numerous capacities, including as a loyal contributor, board member and chair, loan executive and as a member of the major accounts team and citizens review, adding, "This man was an integral part of United Way's move to our Community Impact model."
"What a humbling, humbling honor. I can't tell you how meaningful this award is to me," said Manwaring. "All I can say is, whatever meager time, talent and treasure I've been able to lend to this organization, goodness gracious, I've gotten it back so many times over in the people I've met, friends I've made, staff I've interacted with and the ability to contribute back to the common good a little bit."
Jeff Smith, UWIRC chair-elect, presented the Agency Excellence Award and a check for $2,500 to Dr. Bob Brugnoli on behalf of the Mental Health Association, recognizing its impact on the community and its influence upon the UW Health Advisory Group.
Adams and Smith presented the annual Richardson Spirit of Indian River County Awards in the large-, medium- and small-business categories to Disney's Vero Beach Resort, Bank of America and CenterState Bank, respectively.
Recognizing his more than 20 years as a volunteer with the United Way and multiple other nonprofit organizations, E. Fred Augenstein was honored for his Extraordinary Service and Dedication to the United Way mission.
Adams noted that for the second year in a row, Jeff Smith and his Indian River County Clerk of the Circuit Court staff were ranked No. 1 (per capita) for workplace giving within the public sector out of Florida's 33 United Ways. The Supervisor of Elections office, School District and Sheriff's Office were ranked third, fifth and sixth, respectively.
Keynote speaker Mary Sellers, U.S. president of United Way Worldwide, said she has a personal connection to Vero Beach, having attended Saint Edward's School.
"My passion for nonprofits began here," said Sellers, crediting her mother, Florence Boons, for setting the example.
Ranked as the largest privately funded nonprofit, Sellers said that each locally-governed United Way tailors its volunteerism, advocacy and investments to their own community's most pressing needs.
"Everywhere it operates, United Way fights for the health, education and financial stability of every person and every community. It succeeds by bringing people and organizations together to tackle the most difficult issues in those communities," said Sellers. "We build communities who can fulfill their potential and we serve each other in times of need."
"Our United Way obviously and directly benefits from UWW by utilizing the guidance and building on the work that they do," said UWIRC CEO Michael Kint.
Photos by: Denise Ritchie