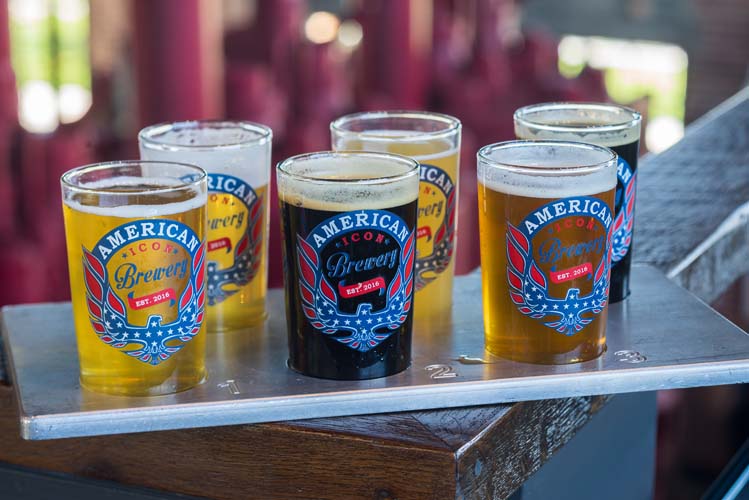 Long, long ago, it was a working diesel power plant. Then for years, it sat empty.  Preserve it or level it?  No one seemed to have a Big Idea – plus the cash to implement it – as the old hulk rotted alongside the railroad tracks. Then developer Michael Rechter came along.  Now, this historic building is embarking on a second life as (drum roll please) the American Icon Brewery – a bustling micro-brewery and eatery. But oh, if those walls could talk …
Headline news: Today, there's a positive energy (no pun intended) in this old power plant, and locals have taken notice in the short couple of weeks the American Icon Brewery has been open. We've tried it for lunch a couple of times now, and the place has been packed.
Look & Feel: You've likely passed by the building thousands of times, maybe even studied it while stopped at the tracks on the edge of Vero's Old Downtown. It's urban-industrial. Red brick walls on the inside, too. What remains are the bones of a dinosaur. What's been added are massive steel vats where power generators used to be, a mezzanine, clean lines of tables and a bar, beer taps artistically set into the side of a preserved relic turbine.
Food: Everything our party ordered in our two visits exceeded expectations. The Icon Burger and the Legally Drunk Goat Burger (both $13.50) rival the very best in Vero, and the Power Plant Tacos ($11.50) with delicate blackened mahi were just right. The appetizers we shared were generous portions, freshly made and served hot. The salt & pepper calamari ($12.50) is a mountain of lightly-breaded, tender calamari enough for three people. The duck wings ($13.50) were crispy, moist and flavorful, washed down with beer brewed on site.
Drink: Brewing takes time, and some of the expected beers are not quite ready yet.  But the flight of five we were served last week showed there is something for just about everyone – unless cocktails are your thing. If there was a suggestion box, "Obtain Liquor License" would be tops on our wish list. Of the beers, our two favorites were the Freedom Torch Milk Stout, a hearty, creamy and satisfying brew, and the Mic (pronounced Mick), a smooth, much tastier version of a traditional American lager.
Service: Our server was attentive and knowledgeable about the growing selection of food and drink, explaining very apologetically about a few items not yet in stock, like the Crepes Harajuku style ($8), and suggesting another option, the apple skillet ($4), which turned out to be an excellent recommendation.
Prices: With an only slightly higher price tag than chain restaurants and significantly less expensive than Vero's more upscale bistros, American Icon Brewery strikes a good happy medium. Burgers and sandwiches range from $11 for an avocado turkey burger to $14.50 for a blackened mahi sandwich.
Initial impressions: American Icon Brewery has the potential to establish a loyal clientele of all ages. It's casual enough to be welcoming to families, hip enough to attract Vero's young professionals, and historically significant enough to lure in Vero's old-timers in the mood for a side of hometown nostalgia.
We welcome your comments, and encourage you to send feedback to tina@verobeach32963.com.
Tina Rondeau, our regular dining columnist, is off this week.  Her reviews will resume in the next issue. 
American Icon Brewery
Hours:  Monday through Thursday, 11:30 a.m. to 11 p.m.; Friday 11:30 a.m. to 1 a.m.; Saturday 11 a.m. to 1 a.m.; and Sunday 11 a.m. to 11 p.m.
Beverages: Beer and wine
Address: 1133 19th Place, Vero Beach
Phone: (772) 934-4266
Photos by: Gordon Radford