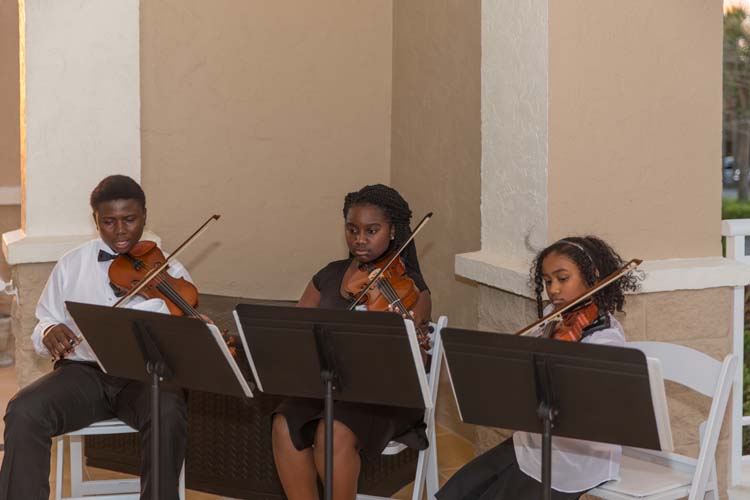 Ocean breezes carried musical notes out to sea "on a string and a prayer" at a Getting to Know You soiree last Friday evening at the Grand Harbor Beach Club to introduce the current crop of talented Gifford Youth Orchestra musicians.
As guests enjoyed cocktails and appetizers and bid on silent-auction items, they had an opportunity to chat with the young instrumentalists about what they have learned through the program. Throughout the course of the intimate get-together, the musicians also demonstrated their ability to make music, sweet music.
The GYO was founded 14 years ago by Rev. Dr. Crystal Bujol as a way to keep children off the streets by teaching them how to play the violin, and it continues to hit all the right notes. More than 160 children have participated in the program since the first chord was struck, with 100 percent of their high school graduates moving on to college.
"Tonight is about letting people meet our kids; to see who they are and what they can do. Then they can go out and tell the world about us. We want people to fall in love with our kids and our program," Bujol explained. "I am amazed that after 14 years there are people in Gifford and Indian River County that don't know about the Gifford Youth Orchestra."
What began strictly as a strings program with violin, viola and cello has grown to also include piano and voice. The nonprofit strives to provide education, experience and training in various cultural and performing arts, with a core focus on mastering instrumentals.
"Music is the hook, but we also teach life skills, teamwork, cooperation and discipline," said Bujol. "We teach them how to use their musical skills to earn money so they know they can put food on the table."
Tatiana Wallace, a seventh-grade student at Gifford Middle School, fell in love with the violin at a GYO concert she attended as a second-grader and now can't imagine her life without music.
"I know if I hadn't gone to that concert I probably wouldn't be where I am today – a first violinist playing with eighth-graders," said Wallace. "Music has helped me so much."
Longtime supporter Kathy Tonkel said she was impressed by the perseverance of the young artists, noting, "They learn discipline and that practice makes perfect. It's impressive considering the environment they grow up in."
The GYO will present their free annual concert at 2 p.m. Nov. 4 at the Gifford Community Center.  For more information visit gyotigers.org.    
Photos by: Denise Ritchie