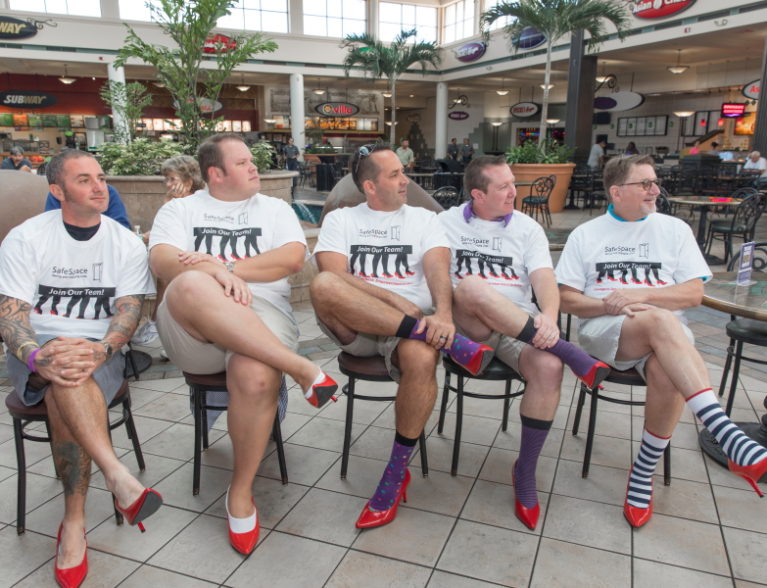 INDIAN RIVER COUNTY — Several hundred men, women, and children put their best stiletto-clad feet forward as they traipsed through the Indian River Mall Saturday morning, walking the proverbial mile to raise funds and awareness for victims of domestic violence at the eighth annual Walk a Mile in Her Shoes event to benefit SafeSpace.
Employing the premise that it is hard to understand what someone else is going through until you walk a mile in their shoes, participants got to the heart and 'sole' of the matter as they wobbled their way along wearing 4-inch-high, red heels.  Many brandished signs with messages that read "I'm man enough to walk a mile in her shoes," "Hands are not for hitting," and "Hugs, not slugs."
While the visuals of men balanced precariously in high heels and grimacing with each gingerly placed step might be entertaining, the motive is a deadly serious one.  Proceeds help fund the SafeSpace operations budget for its Emergency Shelter, 24/7 Emergency Hotline, outreach programs, counseling services and transitional programs.
SafeSpace, the only certified domestic violence center on the Treasure Coast, opened its doors 38 years ago and ever since has been helping victims of domestic violence find their way to a safer life.
"This event is about awareness," said Jill Borowicz, SafeSpace CEO. "In 2016 the Florida Department of Law Enforcement reported that there were about 565 domestic violence cases reported to law enforcement in Indian River County. That's almost two a day and only half of the domestic violence incidents that occur are ever reported."
Borowicz defined domestic violence as any situation in an intimate partner relationship, where one partner exerts power and control over the other in a negative way.
"It's not just physical abuse. There are many more people that suffer from emotional and financial abuse as well."
Noting that it's often difficult for victims to talk about abuse because of the shame and embarrassment of domestic violence situations, she added, "Most people judge the victims, asking, 'Why did you stay?' instead of asking 'Why did he hurt her?'"
She said it is not a one-dimensional issue, as generally children and a lack of resources and finances are involved.
After victims leave the shelter, SafeSpace assists with long-term housing options and helps them to find employment and rebuild their lives.
For more information, visit safespacefl.org.
Photos by: