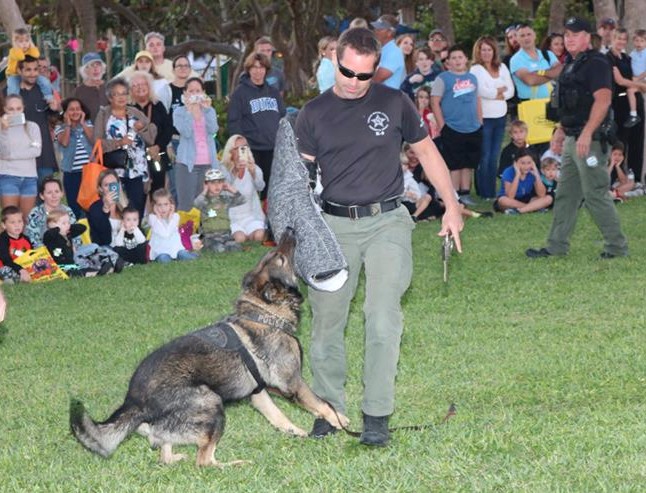 INDIAN RIVER COUNTY — K-9 demonstrations, bounce houses, trying on SWAT team gear, free food and giveaways are just a few things residents enjoyed at local National Night Out events.
The 18th Annual Indian River County National Night Out was held Wednesday at Humiston Beach Park, Vero Beach. Sebastian's Community Night Out was held Thursday at Sebastian Riverview Park and Fellmere's National Night Out was held Oct. 10 along South Orange Street at the Little League Park.
"It's about community and law enforcement partnership," said Vero Beach Police spokeswoman Anna Carden.
Carden said most citizens have negative interactions with law enforcement, such as being pulled over. The National Night Out events bridges the gap between officers and the community and lets citizens meet the person behind the badge.
About 600 to 800 people attended the family friendly event at Humiston Beach.
During K-9 demos, officers displayed how K-9 dogs find narcotics and how they apprehend and take down suspects.
"They have a gun that shoots blanks that shows the dogs aren't startled by the noises," Carden said. The Vero Beach's newest K-9 addition, Asco, was in attendance at the event.
Asco, only 16 months old, officially started training this week, Carden said. Since Asco is still a puppy and needs more training, he did not participate in the K-9 demonstrations.
Several hundred people attended the Night Out community events held by Fellsmere and Sebastian police departments. Those at Sebastian Riverview Park were able to meet Scruff McGruff the Crime Dog and retired army vet Danny R. McKnight.
McKnight, who is portrayed by Tom Sizemore in the movie "Black Hawk Down," served in combat in Panama in 1989 and in Somalia in 1993. He talked about his book, "Streets of Mogadishu," which detail the events of him serving as a U.S. Army Ranger Commander in the Battle of Mogadishu, Somalia.
After serving for more than 28 years, he retired in 2002 and is now a motivational speaker on leadership and partiotism. McKnight lives with his wife, Linda, in Rockledge.
Other law enforcement organizations present at the different night out events were the Indian River County Sheriff's Office and Fire Rescue, Florida Fish and Wildlife Conservation Commission, U.S. Customs and Border Protection, the FBI, Drug Enforcement Administration and more.
Some businesses and organizations present were the local Humane Society, Disaster Relief American Red Cross, the Treasure Coast Food Bank, Moonshot Moment, the Behavioral Health Center, H.A.L.O. Rescue and more.