For Gary Kitchell, there's something special about being one of the guys.
"When you do what I do for as long as I've been doing it, you don't just develop trust," the Vero Beach seasonal resident said last week in Lynchburg, Va., site of the PowerShares Series' penultimate senior tennis event for 2017. "You develop friendships."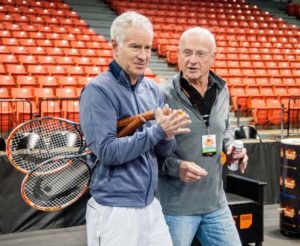 Many of these friends have been inducted into the International Tennis Hall of Fame and Kitchell has worked with 19 players who were ranked No. 1 in the world.
Two weeks ago, in fact, Kitchell joined former Wimbledon and U.S. Open champion John McEnroe at a charity golf event in New Jersey, where the longtime physical therapist and athletic trainer spends his summers.
He has hung out with the Grand Slam winners Jimmy Connors, Pete Sampras, Andre Agassi, Jim Courier, Mats Wilander, Michael Chang, Andy Roddick and Ivan Lendl.
"Mats has stayed at my house," Kitchell said.
The list of champions he has treated or trained reads like a Who's Who in tennis.
In addition to the names already mentioned, Kitchell has worked with Stefan Edberg, Boris Becker, Martina Navratilova, Monica Seles, Tracy Austin, Gabriela Sabatini and Jana Novotna.
He served as the trainer for two of Roger Federer's exhibition events at New York's Madison Square Garden. Locally, he has worked with former top-10 player Mardy Fish, who grew up in Vero Beach, and Mikael Pernfors, the 1986 French Open finalist who has lived here for more than a decade.
By his count, Kitchell has treated more than 400 different players on the men's and women's pro tours and worked at all four Grand Slam tournaments.
"Sometimes, it was for a week; other times, it was for an extended period," he said. "And there are a few I've worked with, on an on-and-off basis, for years. They'd call when they needed help, and I'd take care of them.
"A majority of the time," he added, "the players came to me with injuries others couldn't fix."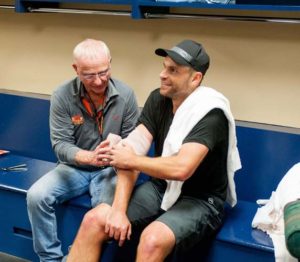 That, Lendl said, is what makes Kitchell so good at his job.
"The key to good treatment is good diagnosis," said Lendl, an eight-time Grand Slam champion who lives at Windsor. "Gary does that very well."
Lendl learned firsthand of Kitchell's ability to diagnose injury and prescribe the proper treatment at the 1989 Lipton International Tennis Championships in Key Biscayne, where Kitchell was working as a volunteer physical therapist.
"Ivan was having back issues, and the treatments he was getting from the ATP Tour's trainers weren't helping," Kitchell recalled. "I was a certified spine therapist, and I was listening to them as they treated him. I kept thinking: They're treating the wrong thing.
"The next day, Ivan came in and I was there," he continued. "He saw me and asked, 'What do you do?' I told him I was a spine therapist. He said, 'OK, get over here and help me.' So I worked on him and he felt better."
As fate would have it, the Czech native would move to Vero Beach and Kitchell would treat him for the rest of his playing career, which ended when chronic back pain forced him to retire at age 34 after the 1994 season.
"I don't know that I decided he would be my therapist; it just turned out that way," Lendl said. "We got to know each other, became friends, and he took care of me whenever I needed help."
Perhaps unwittingly, Lendl took care of Kitchell, too: He put him on the tennis map.
Working with Lendl gave Kitchell credibility with other players on both the men's and women's tours. He also got calls from major champions on the PGA Tour, including Payne Stewart and Jose Maria Olazabal.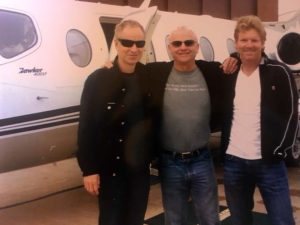 "When you work with a champion of Ivan's stature, people notice," Kitchell said. "They figure, 'If he's good enough for Lendl, he's good enough for me.' I was set."
Among those who noticed Kitchell's successes with Lendl were Courier and Chang.
"I was in the latter stages of my career, and I had some aches and pains that I wanted to keep under wraps," Chang said at the Lynchburg PowerShares event.
"On the tour, the little things can make a big difference," he added. "If you're only 90 percent healthy, it can be the difference between winning and losing. So I knew Gary through Ivan, and he just knows his stuff so well."
Courier, who was suffering from a nagging arm injury when he first sought Kitchell's help in 1989, offered an equally glowing reference, calling him the "best in the business."
He said Kitchell has a "wealth of experience dealing with all types of injuries" and "his diagnostic skills are fantastic."
It was Courier, the founder and driving force behind the 13-year-old PowerShares Series, who recruited Kitchell for the senior circuit.
Kitchell, who said he has worked more than 180 PowerShares events, was in Los Angeles for Sunday's 2017 series finale.
"I'm responsible for all health-related issues – pre-match, post-match and sometimes during the match if a player has a problem," said Kitchell, who is also a certified tennis teaching pro. "I help with everything from stretching to warm-ups to cool-downs, including treating injuries."
"He loves tennis and he knows the body," said McEnroe, who, at 58, is the oldest player in the PowerShares Series. "He knows what we need, specifically for tennis. To have a guy like Gary around is very important for the guys on this tour.
"When you're playing senior tennis, sometimes you need help to stay on the court," he added. "That's what Gary does for us."
When he embarked on his new profession in 1981, the field of sports medicine just starting to emerge.
"By 1994, I had the fifth-largest physical therapy practice in the United States," Kitchell said. "We had 37 employees, saw 550 athletes a week and the Wall Street Journal had written about us.
But after 13 years, having working 80 hours per week his last two years, Kitchell decided to sell the practice in 1994 and retire – at age 41 – to Vero Beach.
He had visited Vero Beach often throughout his life and bought a condominium at Sea Oaks in 1986.
"We'd come down three or four times a year and just fell in love with Vero Beach," Kitchell said. "So in 1994, we bought our first house here, at Indian Trails."
A Quail Valley Golf Club founding member, he now owns a lagoon-front home in Castaway Cove and is affiliated with Mind, Body & Sport Weight Loss in Vero Beach.
"Believe me, I know how lucky I've been," Kitchell said. "You're talking to a blue-collar boy from a zinc-mining town in New Jersey who got to see the world – a guy who came from humble beginnings and was given the opportunity to meet presidents and kings.