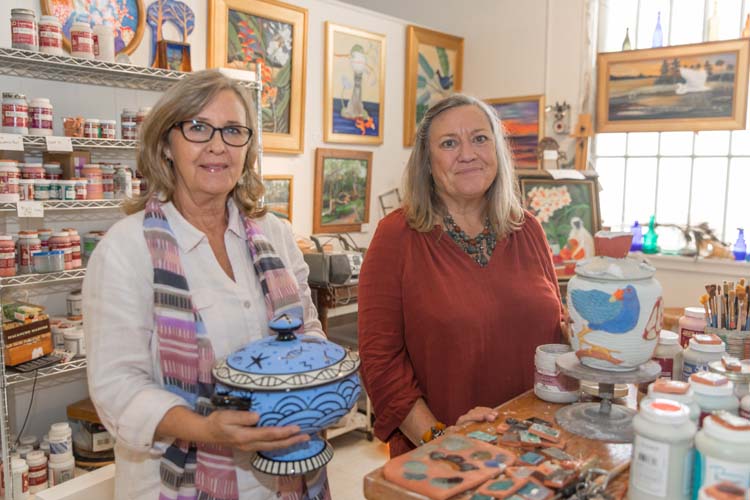 In honor of the Samaritan Center's 25th Annual Soup Bowl, organizers in collaboration with the Vero Beach Museum of Art have cooked up Serving Up Kindness: A Show of Tureens in honor of the Soup Bowl's silver jubilee.
While countless potters have been throwing soup bowls for the fundraiser, a dozen clay artists volunteered their time and talent for the challenge of creating contemporary soup tureens. This select group of potters includes Walford Campbell, Sean Clinton, Joan Cortright, Rae Marie Crisel, Karen "Keko" Ekonomou, Heidi Hill, Lisa Lugo, Gustaf and Janvier Miller, Sean Sexton, Sharon Sexton, Maria Sparsis and Glenda Taylor.
It's the 10th year that tureens have been raffled off to raise even more money for the cause of the homeless.
"Because it's the 25th year, the museum has decided to participate, not only as a workshop partner but as a venue sponsor and will be serving soup," says organizer and potter Shotsi Lajoie. "It's going to be beautiful; there are just so many different interpretations of what a soup tureen is. Some of them are very traditional. Then there are some that look like a sculpture and you don't even realize that there is a lid on it."
Fired up with enthusiasm, the artists have designed functional works of art that embody their personality in a medium that allows them to showcase their talents and verve for life. The results, taken together in the museum's exhibit, form a spectacular display, with many so beautiful it's hard to imagine using them as they are supposed to be used – for soup.
The tureens range from Lisa Lugo's stylized horse to Rae Marie Crisel's take on Cinderella's pumpkin coach. Fish, pelicans, octopuses and mushrooms also make an appearance in designs ranging from simple to sophisticated, and traditional to unconventional.
Glenda Taylor was teaching ceramic classes at the museum when the Soup Bowl began. "When the museum opened in '86, I think there were only two potters in town. We've homegrown a whole community of potters through the museum and the Soup Bowl. It even attracted other potters to move to the area as well."
Taylor has created some half-dozen tureens over the years. "It stretches you as an artist every year because you want to come up with something special for the Samaritan Center."
She says the Soup Bowl artists benefit as a community by working on something together. "Artists are isolated in their studios usually and have this quiet one-on-one with whatever they are working on. To be able to get together at the museum and see what each other is up to and catch up, it's really fun."
Coming from a family of scientists, it was only natural for Taylor to think of primordial soup. "It's kind of a seawater soup of proteins and amino acids that they think started life on earth," she explains of her tureen interpretation. The primordial soup bowl is edged with a DNA helix, fish, starfish and free-floating proteins with ocean waves lapping at the base.
Sean Sexton, Vero's own Renaissance man who ranches and writes poetry in addition to making art, has thrown his considerable talents into creating a tureen fit for King Neptune. A native of Indian River County, he decided to work with a subject he knows well. "I envisioned fish," says Sexton of his fourth Soup Bowl tureen.
"It's sort of a wonderful inconvenience, this whole project, because we get to find out a lot more about the medium every time we do things in it."
His wife, Sharon Sexton, well-known locally in her own right, decided it would be fun to approach the project from a different perspective with a tureen for two. Embracing her love of nature, she captured the beauty of a purple gallinule and her chick graced by a lotus seed pod and water lilies. "My work is always drawn from nature," she says. "This is such a labor of love. I love the whole idea of the Samaritan Center and that the whole community gets together on this."
Two of Vero's most respected artists, Gustaf and Janvier Miller, collaborated on their pelican tureen, inspired in part by their love of fish chowder. "We thought soup tureen, which led us to seafood chowder and fish. And pelicans eat fish," says Janvier Miller.
Serving Up Kindness: A Show of Tureens opens in the Vero Beach Museum of Art atrium on Oct. 26. The tureens will be on display through the Soup Bowl on Nov. 2. Raffle tickets for a chance at winning a soup tureen will be available for $1 and can be purchased at any of the Soup Bowl locations on Nov. 2.
On that day, soup from 90 restaurants will be sold at more than 40 locations for $5 per bowl from 11:30 a.m. to 1:30 p.m. and 4:30 p.m. to 7 p.m.
Photos by: Denise Ritchie
Click HERE to see more or buy photos