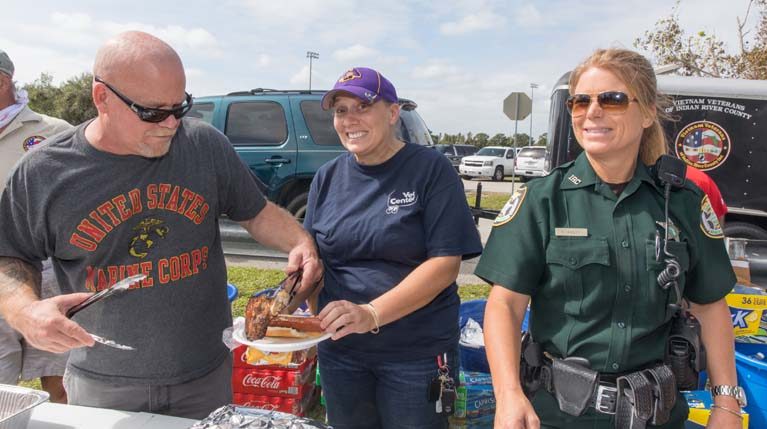 The aromatic scent of grilled chicken filled the air at Victor Hart Park in Gifford last Saturday afternoon during the third annual Veterans and Family Picnic, wafting about the sounds of children playing while adults held good-natured debates about which branch of the military is "the best."
Hosted by the Veterans Council of Indian River County, American Legion Post 181 and the Vietnam Veterans of Indian River County, the family picnic evolved out of a conversation among veterans who had observed a disconnect among the community's various veterans groups.
"We all served our country. Regardless of what different post we had," said Rev. Dr. Sylvester McIntosh. "We decided rather than everybody scattered everywhere, let's start working together under one common goal — bringing people together."
The day kicked off with the Presentation of Colors by the Sebastian Honor Guard and a rousing rendition of "The Star-Spangled Banner."
"We have veterans across this great nation, but in Indian River County we have the greatest veterans that God could ever provide," said IRC Commission Chairman Joe Flescher. "They've already served by defending our free nation and now they are serving within the community; providing great days like today so that we can all meet our veterans and join forces here in Indian River County."
"This is our way of thanking the community," said Curtis Paulisin, Veterans Council of IRC first vice president. "Indian River County is very generous with everything they do for our veterans."
Folks spent the afternoon as one big happy family, relishing good food and helping the little ones tire themselves out by decorating cupcakes, playing assorted games, jumping in the bounce house and slipping down the water slide.
Throughout the day, there was a clear consensus that the community is as proud of its veterans as they are of it.
The Veterans Council of IRC will host its annual Veterans Day Ceremony beginning at 9 a.m. Nov. 11 on Veterans Memorial Island Sanctuary.
Photos by:
Click HERE to see more or buy photos