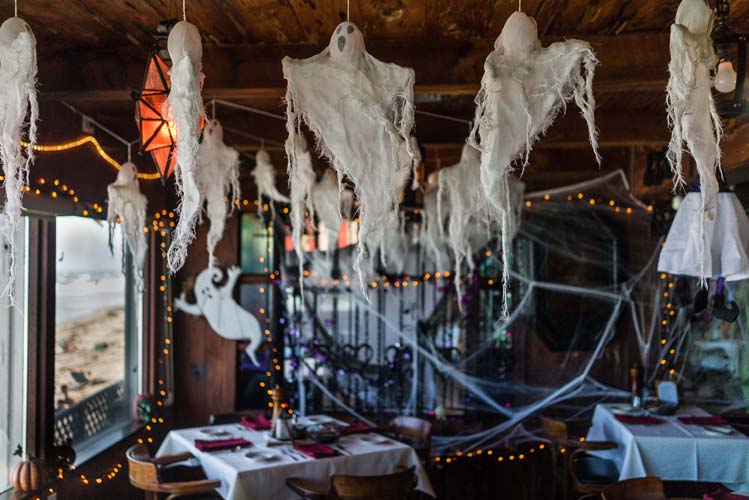 After three decades in Vero, we no longer think of changing seasons the way we used to up north.
Now, in place of leaves turning their fall colors, we look forward to October as the month pompano return to local waters and stone crab claws arrive at the Ocean Grill.
The other compelling reason to visit the Grill this time of year is to check out its annual spook-tacular transformation for Halloween.
So last week, we went to the Grill a couple of days after the official start of stone crab season (surely they had made it to Vero by then), and were ushered to a corner table where we could keep an eye on the ghouls and goblins lurking amid the spider webs that criss-crossed the dining room.
No restaurant provides the haunting Halloween experience of the Grill.
Our server Sophia quickly handed us a card with that evening's specials, and it was immediately obvious we had hit the October dining jackpot.  On the list were stone crab claws – either as an appetizer or an entrée – as well as local pompano.
I decided to go with the crab claws as dinner ($32 for ¾ of a pound, $42 for 1 ¼ pounds) and my husband ordered the broiled pompano ($32).
For starters, I had New England calamari ($13) and my husband went for the fried oysters ($12).
The lightly tempura fried calamari served over mixed greens with a firecracker sauce were a great starter, but midway through, I had a moment of panic.
Our server came by to say the kitchen was running low on stone crab claws. When it comes to these divine beauties, I'm not proud. I pleaded for mine. Happily, Sophia returned a couple of minutes later to say she had snagged one of the final portions.
The stone crab claws, chilled and cracked, were everything I had been dreaming of through those hot summer months when they are not available.
While they are served with the Ocean Grill's homemade mustard sauce, I personally prefer to savor them with just a touch of lemon. Absolutely wonderful.
My husband's broiled pompano, topped with apricot butter, also lived up to his high expectations.
On this evening, we decided to forego dessert even though October also is a month when one of us qualifies for the Ocean Grill's fabulous birthday cake. (You need to order that in advance.)
Dinner for two with a modest bottle of wine is likely to run you about $100 before tax and tip (if you pass up the somewhat more expensive stone crabs).
I might also note that if you don't get to the Ocean Grill for Halloween, there is always Christmas – when the Grill turns itself into as much of the quintessential Vero holiday experience as the Ocean Drive Christmas parade.
As a place to bring visitors, and especially at Halloween or Christmas, there is no better choice.
I welcome your comments, and encourage you to send feedback to me at tina@verobeach32963.com.
The reviewer is a beachside resident who dines anonymously at restaurants at the expense of this newspaper.  
Photos by: Gordon Radford
Click HERE to see more or buy photos