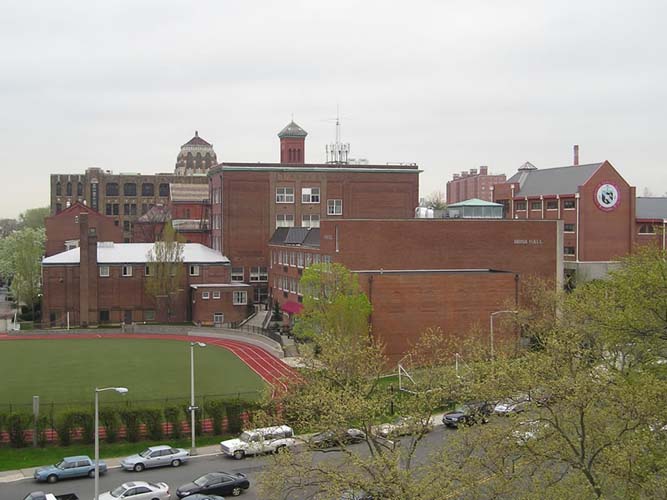 A local education leader wants to open a new high school in Gifford based on a school run by monks in tough, inner-city Newark, New Jersey, which is achieving a level of success that nearly defies comprehension, graduating 98 percent of its students and seeing 87 percent go on to graduate from college.
Nearly 50 years have gone by since Gifford High School closed in 1969 as part of a federal desegregation order that is still in effect in Indian River County, and black educators who went to that vanished school say black students were better off then than they are now.
Dr. Jacqueline Warrior, an education leader and advocate for parents and students in the school district and juvenile justice system, recently brought together a group of educators to discuss how to recreate the caring environment that enabled their generation's academic and athletic successes and to look at a unique education model that's working wonders for inner-city black and Hispanic students in Newark.
"I don't think it's possible to overcome the problems black, Hispanic and lower-socioeconomic students are experiencing by working within the current public school system," said Warrior, who wants to open a private high school for boys in the Gifford community.
"You could argue we are talking about re-segregating," Warrior said, "but the public schools haven't truly integrated. Students of color and white students lead a parallel existence, as the grades and discipline data shows.
"If you listen to the community, they all talk about how they didn't want to leave Gifford High School to go to Vero Beach High School. It ripped the heart out of the community and took them out of the school where they felt safe and accomplished. The school we want to create will foster true community among diverse students, without turning away from social problems and pretending they don't exist."
The school would be open to all students, not just students of color, but it was persistently low African-American achievement in the Indian River district that spurred Warrior to look for better ways to educate students, and St. Benedict's Preparatory School in Newark was the most promising model she found.
She invited Headmaster Father Edward Leahy and Louis Lainé, director of the school's education-outreach arm – called The Vox Institute – to inform Vero educators about the school's methods.
St. Benedict Abbey, in downtown Newark, has run St. Benedict's Prep for 150 years. It was the college preparatory school of choice for sons of blue-collar and middle-class white immigrants until 1971, but race riots and white flight changed the student base in the late 1960s and early '70s, and school leaders revamped their methods in response.
The school closed for a year to rethink its mission and then reopened to serve the new students, mostly young black males from the surrounding inner-city neighborhoods, applying St. Benedict's guidelines for monks called "The Rule" to school operations.
The new experimental education model divided the monks. Father Leahy was among the half-dozen out of more than 20 who remained. "They were terrified . . . [the black community] would do to us what . . . [the white community] had done to them," Leahy said. "We monks are not immune to racism."
St. Benedict's Rule focuses on the heart and spirit. Similarly, the school seeks to heal students traumatized by broken families, drug addiction, gang violence and crime. There is a heavy emphasis on counseling.
A psychologist and counselor with Ph.D.s and other licensed professional counselors and doctoral candidates serve the school, providing individual as well as group counseling.
Specific problems have spawned specific groups, each with about 30 students. "The Unknown Sons" is for boys with missing fathers, "The Blues Brothers" for depressives and Al Anon for those with drug-addicted family members, to name a few.
The strongest intervention tool is "Leahy House," where students at greatest risk live, getting intensive counseling and a caring but disciplined home. Warrior hopes for a similar residence for students needing wrap-around support at the Gifford school she proposes.
"Academic problems are not academic," Leahy said. "Many are so angry – usually over an absent dad –they are acting out or acting in by failing classes. There is so much emotional noise they can't concentrate. You deal with that and then the academics come right up. Most public schools are attributing everything to intellect."
Just as the monks run the monastery, the students run the school. "These kids never get to lead. They need the experience and opportunity," Leahy said. The phrase, "Never do for a student what he can do for himself," is a tenet of the school.
The students are grouped into teams led by older students with developed leadership skills, ensuring none fall between the cracks. The students take attendance, maintain order, clean the school, investigate absenteeism, and generally take care of each other.
"What hurts my brother hurts me," is the school motto.
Father Leahy and Lainé took a tour of what was once Gifford High School, now Gifford Middle School, and were struck by the school hours posted on the door. Their students would never put up with that, they said. St. Benedict's students, rightfully, feel they own the school, and it's open 24 hours a day.
There are no security guards, no student resource officers, no locks on the doors or lockers.
St. Benedict's academic success defies Newark's public high school statistics, although its students come from the same high-poverty, low-education neighborhoods, with the same high crime and drug abuse statistics.
The public high schools have a 32 percent pass rate, while St. Benedict's is 98 percent and nearly all go to college – with 87 percent graduating from college – blowing the doors off the 56 percent national college graduation rate for all males.
Warrior would love to open a high school that could achieve similar success for students in Indian River County. She's looking for support, donors and a building to use temporarily in Gifford.
"After 50 years of low achievement, I want to save some kids now, not wait on the public schools to save them. Let's try something that's working."