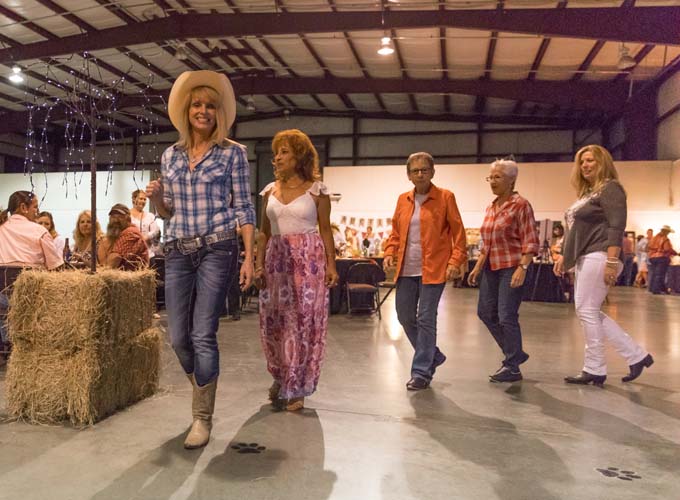 The Ag Pavilion at the Indian River County Fairgrounds provided the perfect backdrop for a hootenanny for the hounds last Saturday night, where more than 200 guests kicked up their heels at the H.A.L.O. Hoedown fall fundraiser to benefit the H.A.L.O. No-Kill Rescue, whose mission is to create a safe haven for abused and abandoned animals.
The toe-tapping Hunter and the Real Country Band were a-pickin' and a-grinnin' as they lured cowpokes to the dance floor for some line dancing and down-home promenades. Their boots broken in, guests refueled with barbecue from the Saussie Pig and bellied up to the bar to whet their whistles.
As the evening wore on, kisses were stolen at the Old West Kissing Booth, live- and silent-auction items drew spirited bidding, and H.A.L.O. pooches got photographed with their supporters. Funds raised from the sale of hoedown horseshoes will be used to waive adoption fees during their December H.A.L.O. Home for the Holidays campaign.
"We just broke the 10,000 lives saved mark," announced Jacque Petron, who founded the organization in 2006. "Last year we made it a point to be open admission for Indian River County, increasing our save rate by 37 percent. We didn't turn animals away for lack of space; we just got more creative. By waiving adoption fees, holding special events and having more foster families, we were able to take in more animals. We found barns for feral cats and had trainers rehab dogs that didn't come in adoptable. This year we will be well over 2,000 lives saved."
Petrone eventually hopes to build an enrichment center for dogs and cats needing behavioral and emotional training prior to adoption.
Partnering with Professional Title, H.A.L.O. organized the delivery of thousands of pounds of much-needed supplies to Puerto Rico, and last week volunteers prepared for the arrival of 70 animals from the hurricane-ravaged island. After health and temperament assessments, the animals will spend time in foster homes to be socialized and ultimately adopted.
For more information, visit halorescuefl.org.
Photos by: Denise Ritchie
Click HERE to see more or buy photos