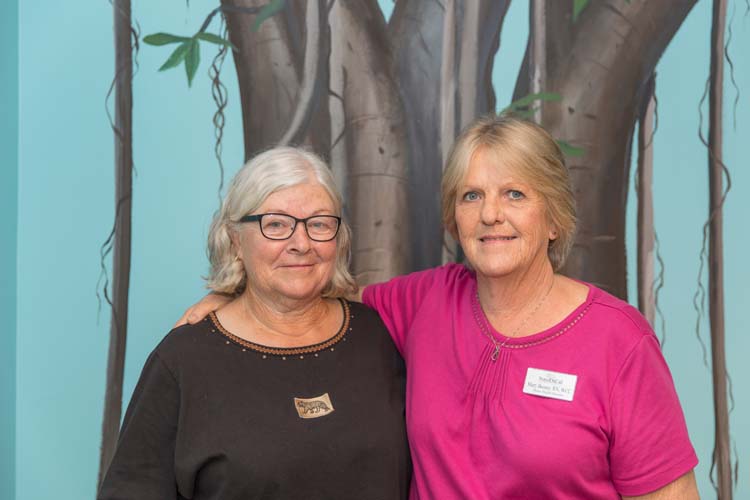 Upwards of 10 million Americans suffer from lymphedema, according to Lymphatic Education & Research Network.
That's more than the combined number of people afflicted with multiple sclerosis, muscular dystrophy, ALS, Parkinson's disease and AIDS.
Worse, lymphedema can strike at any time of life.
Hundreds of millions of people worldwide are affected by this condition.
Yet, while the M.D. Anderson Cancer Center calls lymphedema massage "one of the vital aspects of helping to manage lymphedema in home treatment," those massage services are simply not available everywhere.
That's probably why Linda Marshall and Mary Bussey at Vero Beach's Nurse On Call offices are eager to talk about what they can do to help those who struggle with lymphedema's impact.
Nurse On Call, or NOC, is a Medicare-certified home health agency with deep roots here on the Treasure Coast. It provides a wide variety of nursing services and rehabilitation therapies in 47 of Florida's 67 counties.
Bussey, NOC's home health director in Vero Beach, points out, "This branch serves Indian River and St. Lucie counties [and] we have a Melbourne office within this region. We're pretty much up and down the east coast from Broward county north" or essentially the whole Treasure Coast.
NOC does offer lymphedema massage and it has some very impressive friends, too.
Dr. Raul Storey, for example, is a WebMD five star-rated hematologist and oncologist with Florida Cancer Specialists. He has offices in both Sebastian and Vero Beach and you don't have to ask him twice about NOC.
"I have worked very closely with Nurse On Call for five years," says this highly respected cancer expert. "I am very pleased with their services including the way they help patients who are dealing with the problems that lymphedema can pose."
What exactly is lymphedema, what problems does it pose, and why does massage help?
The Johns Hopkins School of Medicine defines lymphedema as "a chronic condition that occurs when the lymphatic system is damaged or impaired, resulting in swelling of the limbs or other parts of the body. Impairment to the lymphatic system can occur from congenital abnormalities or damage through surgery, radiation, trauma and infection."
The Mayo Clinic puts it more simply, saying "Lymphedema occurs when your lymph vessels are unable to adequately drain lymph fluid, usually from an arm or leg."
The lymphatic system is part of the human immune system. It serves the dual role of carrying nutrition to the body's individual cells while also removing waste products. It also traps and disposes a variety of bacteria, viruses and other foreign substances, and destroys them with white blood cells called lymphocytes.
Lymphedema is often – but not always – caused by the removal of, or damage to, lymph nodes, which are tiny bean-shaped glands spread throughout the body.
This kind or damage to the lymph nodes often occurs during melanoma, prostate, breast, head, neck or ovarian cancer surgeries and prevents the body's lymph fluid from draining properly.
But as NOC's Mitchell explains, it's not just cancer surgeries that can lead to this painful swelling of the extremities. "Many of my patients," Mitchell points out, developed lymphedema "after total knee replacements or ankle surgeries." And, since the average age of NOC patients – according to Bussey – is 79.4 years, falls and other similar household traumas can also be a trigger.
Age, however, is less a factor than many people think. The Lymphatic Education & Research Network points out that physical trauma is "a major cause of lymphatic disease among our wounded war veterans."
"In the treatment of lymphedema," Mitchell explains, "what we do is we try to counteract what's happened" by applying pressure to try to help the fluid get drain through a different pathway.
But as Mitchell is quick to point out, not just any masseuse will do for lymphedema massage. That, she says, "really does require a knowledge base [set by the Academy of Lymphatics] because there are contraindications and precautions depending on co-morbidities" the therapist must know about.
Calling on her years of experience, Mitchell points out, "If the swelling is more related to an arterial problem rather than a venous problem, the compression [of the tissue] can make things worse."
Lymphedema massage is often called "manual lymphatic drainage" and there are multiple variations, all of which are designed to move built-up fluids from the swollen area into a place where the lymphatic system is working normally and will allow it to drain.
The bad news?
The Mayo Clinic says there is no cure for lymphedema, but notes "it can be managed with early diagnosis and diligent care [including massage] of the affected limb."
On a brighter note, Bussey quickly adds that "cysts, ulcers and any wounds [including] chronic wounds of the legs heal better with compression and massage than without them."
Nonetheless, WebMD warns, "if you have lymphedema you may want to wear a lymphedema alert bracelet. These bracelets, available through the National Lymphedema Network, are worn to protect people who have lymphedema from receiving treatment such as blood pressure readings, injections, or blood draws to their affected limbs. These treatments could make their conditions worse."
Consult your physician for more information and advice.
Nurse On Call is located at 3755 7th Terrace, Suite 202. The phone number is 772-770-1167.