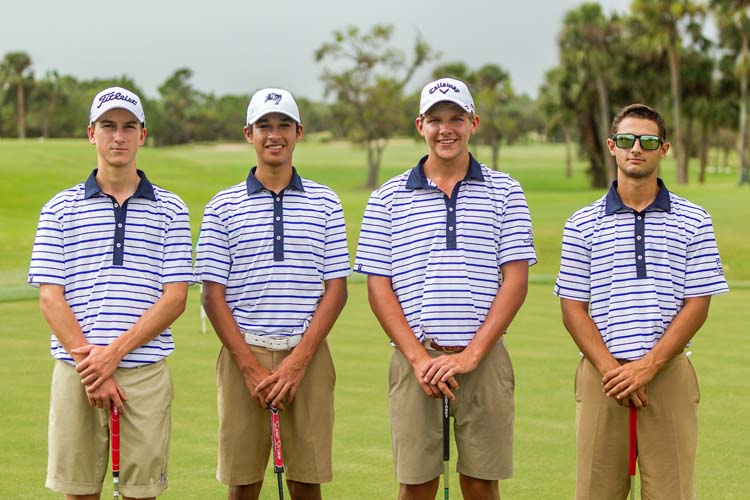 The boys on St. Ed's varsity golf team wisely picked the final match of the regular season to play what head coach Scott Mohr said was their best golf of the season. It couldn't have come at a better time as Senior Night was celebrated at Bent Pine Golf Club after the match.
Anirudh Mysore shot a 36, GP Battista 38, and Trey Meadows and Anthony Chiarenza identical 39s in the Pirates victory over John Carroll. The timely excellence hopefully foreshadowed a strong performance at the district tournament opener this past Tuesday in Hobe Sound.
"This is a culminating year for a lot of our boys," Mohr said. "Four of the six guys on the team are seniors. It's wonderful to see them grow up, so to say. They are really embracing leadership roles and they are looking forward to the next steps in their education and their lives.
"This is my third year coaching and four have been with me all three years. It's been a great group of kids to work with. I've been really fortunate."
Seniors Meadows, Mysore and Chiarenza and sophomore Battista have been on the team for Mohr's entire three-year coaching tenure. Sophomore Ryan Niederpruem is a second-year varsity golfer; senior Paul Siegl is a newcomer to the team this year.
"The seniors were eighth-graders in my first year teaching at St. Edward's," Mohr said. "So I've been with these guys for my entire five years at the school. These are the first kids I taught and dealt with extensively. I know the students in this grade better than any other. I'm so thankful for every minute that I've had with them."
The seniors shared some of their thoughts as they prepared for the John Carroll match. Meadows plans to play Division 1 golf at McNeese State University and major in business or journalism. Chiarenza says he will major in business and minor in marketing at the University of Tennessee. Mysore and Siegl remain undecided on exactly where they will focus on a business curriculum.
The team made it to the regional tournament last year and that feat provided the most outstanding high school golf memories to date for Meadows, Chiarenza and Mysore. Slipping past nemesis Benjamin in the district tournament to make regionals was cited by Meadows and Chiarenza. Mysore went one round better and said his favorite moment was his season-best 76 – good for 8th place overall at regionals.
Siegl joined the group this year and said the chance to play some golf and have fun with the guys was all he could ask for.
"Meadows, Chiarenza and Mysore are my team captains this year," Mohr told us.
"They are three very different students and different athletes, but they all have a passion for golf. They show it in different ways, but it brings us all together. They have been such great leaders for me and the team."
The season-long 18-hole individual averages were Meadows 76, Mysore 78, Chiarenza 79, Battista 85, Niederpruem 85 and Siegl 89. This team has already shown in convincing fashion that a regional repeat is possible. That means more lasting memories are still out there for the taking. Standing in the way are the usual suspects in the form of Pine School, the district tournament host school, and always-pesky Benjamin.
"With the district playoffs upon us it's unbelievable how the season flew by between the storms and weather," Mohr said. "But we are in great shape and looking forward to competing."