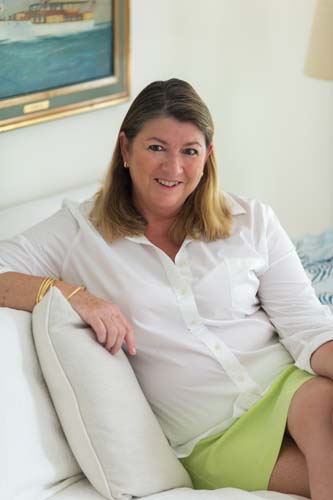 Artist Thomasina Sawyer likes to say that good things happen for her "by mistake." Take, for example, the serendipitous series of events 18 months ago that inspired her hand-painted wall covering business, Hatfield and Keating.
Sawyer, who visits Vero Beach often to see her mother, author Stephanie Keating, was working on a formal garden design for the owners of a chateau in the south of France. Her ideas for the garden, as well as her charmingly rendered watercolor plan for it, inspired her clients to commission Sawyer to create a garden-themed decoration inside their home.
That's when her "Golden Series" happened – by mistake.
Sawyer painted "a whole bunch of samples" envisioning the theme of the décor, where it was to be installed, and how much of that space it would encompass. The chateau's Mediterranean garden features a collection of striking plants – Sawyer used Washingtonia palms, olive trees and blue agapanthus in designing her part of it. She incorporated the pattern of foliage into her scheme, as well as the recurring figure of a stunning crowned bird known as the hoopoe that visits the garden to nest.
The set of six wall panels spanning 24 feet lead to the home's salon from its entry hall. They feature stylized foliage, birds and bees set against a background of golden ochre and taupe.
For Sawyer, an autodidact who began painting more than 30 years ago, it's all in a day's work.
"Doing a garden to me is like doing a painting. For me they are part of the same thing."
And so it was that Sawyer, who lives and works in London and the south of France (the latter at her extended family's home, where she has a studio), decided to begin a business in bespoke wall coverings: commissioned works of art on fabric, paper, wood and glass that are installed semi-permanently on a client's walls.
If you only know the word "bespoke" in the context of custom-made men's suits, then you may wonder when the term is used to describe hand-painted wall décor.
Sawyer laughs and says, "I don't know if other people use the word 'bespoke' for it. But my work is very tailored to the client's home."
She adds, "I feel there is the same amount of personal integrity in my custom bespoke wall paneling as there is in my painting or my drawings. It's all coming from the same place."
Vero Beach comes into this saga because Sawyer, whose parents have had a home on the barrier island for three decades, found the perfect business partner here in Alyssa Hatfield Kantzler, who has a degree in architecture from the University of Florida and experience in real estate sales and management.
Together, the women created Hatfield and Keating. Kantzler acts as the business' manager and agent; Sawyer provides the talent. Sawyer opted to use her mother's name because Hatfield and Sawyer sounds "too much like the Hatfields and the McCoys," she says.
In Vero, it may prove a good marketing strategy, tapping into her mother's broad circle of friends as well as her local fan base.
Stephanie Keating and her sister Barbara Keating, Sawyer's aunt, have written a trilogy of historical romance novels that begin and end in Kenya: "Blood Sisters," "A Durable Fire" and "In Borrowed Light."
Kenya is where the Keating sisters where raised, and where Sawyer spent her early childhood.
Sawyer says that the sisters instilled in their own children the idea that the world was theirs to travel and enjoy.
"It works for me," says Sawyer.
The latter part of Sawyer's childhood was spent in the Seychelles, Mauritius (where her grandparents retired), the British West Indies and then Europe, where she went to secondary school. "After that, by mistake, I sort of fell into the fashion business," she says.
A summer job at a modeling agency in London stretched into a decade-long career that included three agencies; she managed a division in the largest of them.
Working in the fashion industry "suited the organized part of my brain very well," she says.
"But all during that time I was painting at home by myself. One week I'd be at fashion shows in Paris or Milan and then I'd go home and continue on my painting."
Her interest in art began in Kenya, where she "gobbled up" her mother's collection of art books on everything from Old Master paintings to Picasso. The glossy pages reflected a culture quite different from the one she experienced "hanging around in the bush."
Although Sawyer began painting in earnest in her 20s to scratch an artistic itch, her urbane London friends liked her work – figural compositions with a touch of the surreal – well enough to begin buying it. She had her first solo show in Paris at about the same time that a gallery in New York took her on.
She continued to exhibit in Europe as well, and enjoyed prestigious artists' residencies in Spain and India. Her African upbringing and her self-taught status, however, made her think of herself as an art world outsider. Eventually she tired of the gallery system, which she calls the "treadmill of what your CV looks like."
Today, Sawyer divides her time between her personal fine-art work and the work she calls applied art: her wall décor.
"My personal work is more difficult, because it's that struggle with yourself. But somehow that goes out the window when you're working with a client."
That, she says, "is like a really nice conversation; I'm not under any pressure, other than to come up with something stunning."
Photos by: Gordon Radford