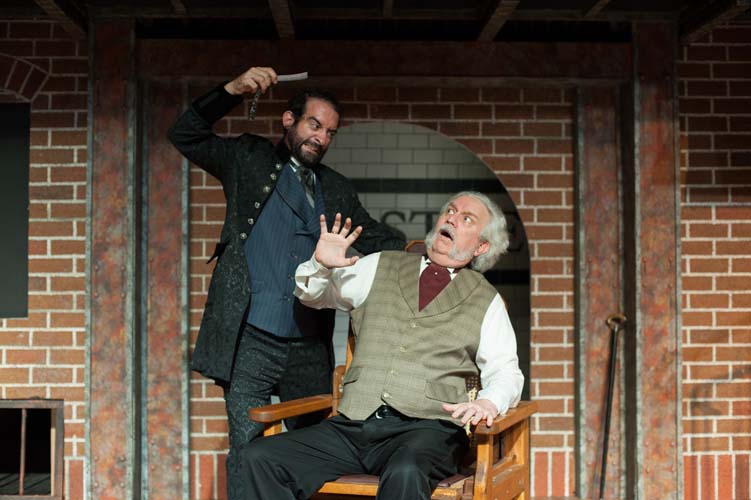 Audiences will see a sweet mix of new and familiar when "Sweeney Todd: The Demon Barber of Fleet Street" opens Friday at the Henegar.
Familiar faces include those of: Terrence Girard (soon to be entering into "veteran Brevard performer" status) as the cruel Judge who, 20 years before the story begins, banished Sweeney in order to have his way with Sweeney's wife; as the Judge's servant, Beadle Bamford, is Greg Galbreath, a performer who first let loose his strong presence in the role of Jean Valjean at Titusville Playhouse; and Shane Frampton, a professional actress and a Henegar favorite, in the role of Mrs. Lovett, a lady who makes and sells the "worst pies in London" and who never takes a dead cat for granted.
Newcomers are Kaitlin Ruby, familiar to Vero Beach residents as a former Miss Hibiscus who played in the title role in the Theatre Guild's "Evita" last year. At Henegar she takes the ingénue role of beautiful Johanna, Sweeney's unsuspecting daughter who falls in love with Anthony, a virtuous young man played by Raymond Weber in his first mainstage show at the Henegar.
One of the big surprises was the casting of a virtual unknown, Joshua Doyle, in the role of Sweeney. But when director Dominic Del Brocco saw him at audition, he knew immediately he had his Sweeney.
"I don't know where he's been hiding," Del Brocco said. "With his ability and talent, I'm surprised he doesn't do this all the time."
Moreover, this is Del Brocco's first job directing a mainstage season show. He first hit the Henegar in his winning portrayal of Clopin in last season's "The Hunchback of Notre Dame."
And, he's bringing a courageous, fresh concept to the show – "steampunk" styling.
For sure, composer and lyricist Stephen Sondheim showed courage when he decided to turn a "penny dreadful" melodrama into "Sweeney Todd." When the show opened in 1979 Broadway was saturated with feel-good shows like "Annie" and "The Best Little Whorehouse in Texas."
But his grisly and misanthropic musical about a murderous barber, and his landlady who turned his leftovers into meat pies, won an astounding eight Tony Awards. It has, throughout the decades, become a favorite of professional, regional and community theaters.
Del Brocco hopes that a similar reward happens for his unique "steampunk" take.
The retro-futuristic style combines a Victorian aesthetic with elements of the industrial revolution. Think Jules Verne with high top hats and goggles, women in velvet skirts decorated with bronze gadgets, and jewelry made of gears.
"I changed the overall look so it's not the same old, same old," Del Brocco said. "Typically, 'Sweeney Todd' is done with a turn-of-the-century gothic theme. With my approach, I shuffled the time line a little bit to the industrial revolution. And I added more flair, especially to costumes and set pieces. It's not overwhelmingly steam punk. Just a little nod to it."
Just as this is something new for a musical nearly 40 years old, directing a show like this is definitely something new for a man who's been in love all his life with everything Disney.
Born and raised with two older sisters in a working class household, Del Brocco had wanted to become a Disney animator. But after getting bitten by the acting bug, he set his sights on performing at the Magic Kingdom.
Twenty years ago, Disney held auditions in Baltimore. Del Brocco went and got a call back. He dashed home quickly to tell his family the good news.
He scraped together some money, flew to Orlando and was cast.
For 13 years he performed in all four of Disney's main theme parks, doing shows from "The Lion King" to "Hunchback of Notre Dame," in which he performed the role of Clopin, which, in 2016, would become his first stint at the Henegar.
Fast-forward to his present project. For "Sweeney Todd," Del Brocco has also kept the ensemble a tight one. The cast has a total of 22 performers.
"Within that I've created cast differences between upper and lower class. I utilized the ensemble through many scenes throughout the show with different story lines. I didn't change the material of course, just the staging of it.
"For those who know the show, toward the end of the first act, two major songs will have a 'pleasing' surprise." He was referring to two of the musical's most iconic numbers, "Epiphany" and "A Little Priest."
"Sweeney Todd: The Demon Barber of Fleet Street" runs through Oct. 29 at the Henegar Center, 625 E. New Haven Ave., Melbourne. Tickets are $26 general, $23 military and seniors and $16 students with $3 handling fees per ticket. Call 321-723-8698 or visit Henegar.org.