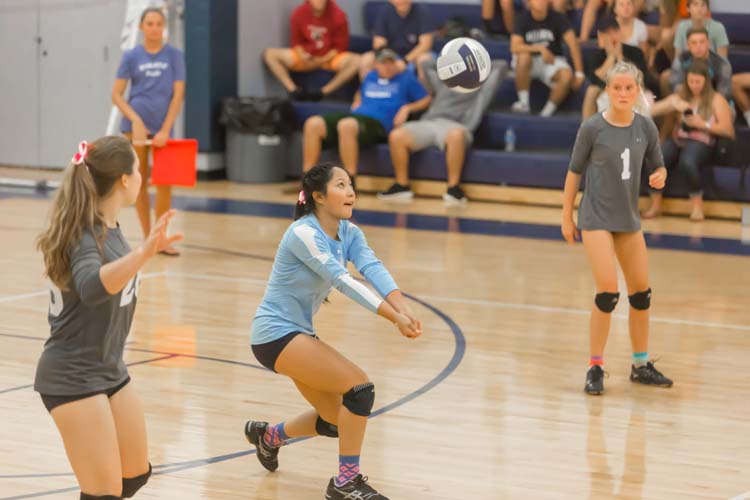 St. Ed's came out on the short end of a marathon volleyball match at home last week against Master's Academy. The visiting Patriots took the first two sets before the Pirates rallied to capture the next two and force a winner-take-all fifth set. The scores were 22-25, 11-25, 28-26, 25-22 and 11-15. Momentum swung back and forth on little things like timeouts and serves into the net.
Head coach Sid Parker advises the girls on his varsity squad to be aware of, and not be flummoxed by, the ebb and flow of a typical set, or even an entire match as was the case with Master's Academy. However, a main concern this season was a tremendous amount of flow and very little ebb that had nothing to do with matters on the court.
"This season has definitely been crazy from beginning to end," Parker explained. "We started really strong with a district win against Village Academy and then a hurricane decided to happen. We had a lot of rescheduling to do when games were impacted before, during and after the storm. And let's not forget all of the schoolwork that had to be redone because of that."
The Pirates were 1-2 before Irma forced the cancellation of four straight matches. One was dropped entirely because it was non-district, but three others within the district were rescheduled and eventually made up. The Pirates were 3-8 through last week, 2-6 in District 7-3A.
The regular season ended this week with Senior Night on Wednesday. In the district playoffs next Monday the Pirates open against a high seed, so they had better be ready to master the inevitable ebb and flow.
St. Ed's won two of three matches last week, prompting Parker to say, "We certainly hope to be peaking at the right time. The girls have shown definitive progress throughout the season and that culminated in the games last week, which has been really nice."
The roster features three seniors, five juniors and two sophomores. Senior Trisha Tee can be counted on for close to double-digit digs as the libero. Senior Maya Jenkins and juniors Sophia Oriaku and Cat Campione account for the vast majority of the  kills. Campione and junior Kira Zudans combine to average nearly 10 blocks a game. Sophomore Molly McGee is the main setter.
Senior Alana Paul, junior Lauren Savage and sophomore Catalina Pratt play primarily back-row defense. Junior Sylvia Kong does rescue – or secondary – setting, and she also hits from the right side.
"I love this team, we have such good chemistry and we really like each other," Jenkins said. "We also know each other so well. Being a senior leader is really fun because everyone looks to you to establish the team atmosphere and show everyone how to act.
"We are doing well and ending the season on a strong note. Next year the team should be really good with five seniors."
Tee described her role as libero. "I'm the defensive specialist and it's a lot of work because you have a lot of court to cover. A lot of the other girls can make really good hits, so we have to get to that point. It's a challenge, but once you get the ball up it's a really good feeling. You know that you have accomplished something.
"We've developed a lot throughout this year and we are really getting the hang of working together."
The volleyball program is running on all cylinders in Parker's second season at St. Ed's. "In addition to the varsity, we are running a JV team with nine players," Parker said. "We also have three middle-school teams. Our program has been growing and we are really looking forward to having the younger kids move up into the high school program. The excitement is there and these kids are really interested in volleyball."
Eighteen girls on the eighth grade team will potentially feed into the JV and varsity teams in 2018. Twenty-four more on the sixth- and seventh-grade teams will keep the middle-school engine running smoothly.