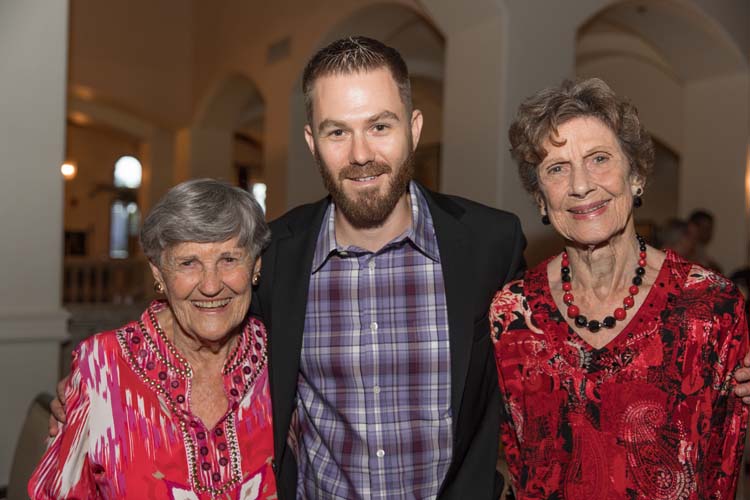 At The Arc of Indian River County's third annual Replogle Family Award Dinner last Saturday evening, the emphasis was on the heroes who provide hope and support to individuals affected by Down syndrome, cerebral palsy, autism and other developmental and traumatic brain disabilities.
Enthusiastic members of The Arc Choir rocked the dining room of the Grand Harbor Club as they sang and signed Mariah Carey's "Hero" and Bonnie Tyler's "Holding Out for a Hero," dedicating the songs to their heroes – the directors and staff of The Arc. And Dick and Chris Picken, recipients of this year's Replogle Family Award, were honored as heroes to the organization.
Poised and confident, Christina Wunsche spoke to guests about the numerous and varied daily activities she enjoys at The Arc, among them: chorus, cooking, creative arts and crafts, computer, reading, math and science classes, exercise, photography, sewing and gardening.
"The Arc is really important to us," she said. Thanking everyone for their support she added, "I love you guys very much."
Fittingly held around Columbus Day, the dinner celebrates those advocates who enable The Arc to 'discover new worlds' for people with intellectual and developmental disabilities. The award was named in honor of Director Emeritus Mary Ellen Replogle and her family, who each May since 1982 have hosted Ocean Grill Night to support the nonprofit.
"This award goes to folks that have gone above and beyond the call of duty to help our organization," said Chuck Bradley, executive director, noting that Dick and Chris Picken epitomize those qualities.  "They've been involved with the organization in excess of 20 years. They have literally given hundreds of thousands of dollars to the organization. We've cried together, we've worked together, we've worked through the dark times, we've celebrated the good times."
"Dick has recruited more board members than anyone I know," said Reese Brackins, board president. "Not only has he served as a board member, he's the only board member I know who has served as the acting executive director as well, during a time we really were hurting. He's been in the trenches. And of course, without Chris he would never have made it; I guarantee. I've seen a lot of awards in my time, but this one is the most well-deserved that I've ever seen in my whole life."
"What you have to realize is that the reward you get when watching these people perform and succeed in life is all you need," said Dick Picken. "And that's what we're trying to do; to give them a chance to succeed in life."
"We're very lucky to have The Arc here," said Mary Ellen Replogle.