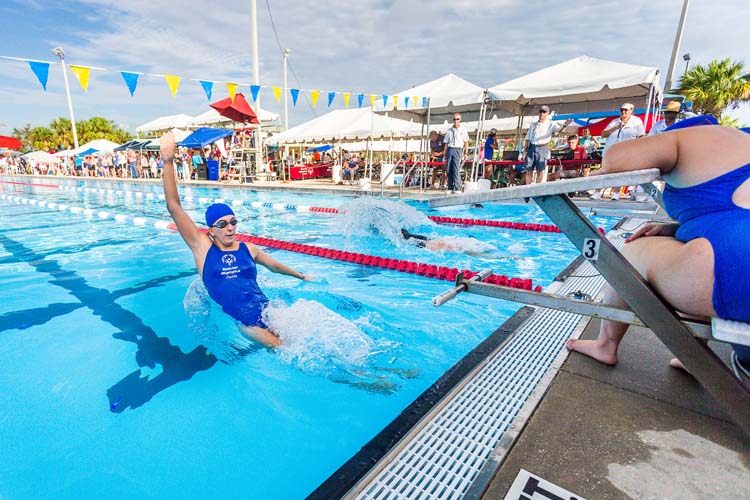 More than 400 proud participants in the 2017 Special Olympics State Aquatics Championships gathered at the IRC Intergenerational Recreation Center Saturday evening for an Opening Ceremony and Dinner following a day of swimming competitions at the North County Aquatic Center.
In a ceremony replete with all of the pomp and circumstance their hard work and determination warranted, athletes from each county were introduced by Master of Ceremonies Anna Valencia-Tillery as they paraded amid the cheering crowd, their excitement and pride manifested by beaming smiles.
"The ceremony gives the athletes the chance to celebrate their start of competition," said Paul Tripaldi, Special Olympics Florida director for Indian River and St. Lucie counties. "It gives them a chance to socialize and have some fun. It makes them feel that they are the only people in the room and it's all about them."
Indian River County Commission Chairman Joe Flescher shared words of encouragement in his welcome to swimmers, telling them, "Thank you for giving us a great moment; a snapshot of what it is to be a competitor. You're Olympians. You'll always be Olympians."
Later, the athletes cut loose on the dance floor, partying after a successful day at the pool and loosening up before their final laps on Sunday.
The seeds of the organization were planted in the 1950s, when Eunice Kennedy Shriver hosted a summer day camp in her backyard for young people with intellectual disabilities, believing they should focus on what they "can" do. In 1968 she organized the first International Special Olympics Games at Soldier Field in Chicago.
Special Olympics encourages physical fitness while also helping athletes build skills and friendships so that they may develop and share their gifts.
"The Special Olympics are a perfect fit for students and adults with special needs and intellectual disabilities," said Tripaldi. "You take an intellectual or developmentally disabled person and put them into a sport where they are competing, and they forget about their disability. It's as if they don't have a disability anymore because they're focusing on what they can do not what they can't do."
The nonprofit provides year-round sports training and competition for children and adults ages 8 and older with intellectual and developmental disabilities, in everything from basketball and bowling to surfing and horseback riding.
"We do pretty much every sport. If they do it in the Olympics and we have a coach, we'll do it," said Tripaldi.
He noted that the weekend's swimming competition ranged from the freestyle 50-meter on up to long-course breaststroke and backstroke, adding, "Pretty much every event you would expect to see in an Olympic race. We modify their event and their sport to meet their ability. You can come out and achieve to whatever level your ability is because it's not about where you're getting, it's about how hard you try."
The heart of the Special Olympian is embodied in the athletes' oath: "Let me win, but if I cannot win help me be brave in the attempt."
For more information, visit specialolympicsflorida.org/indian-river.