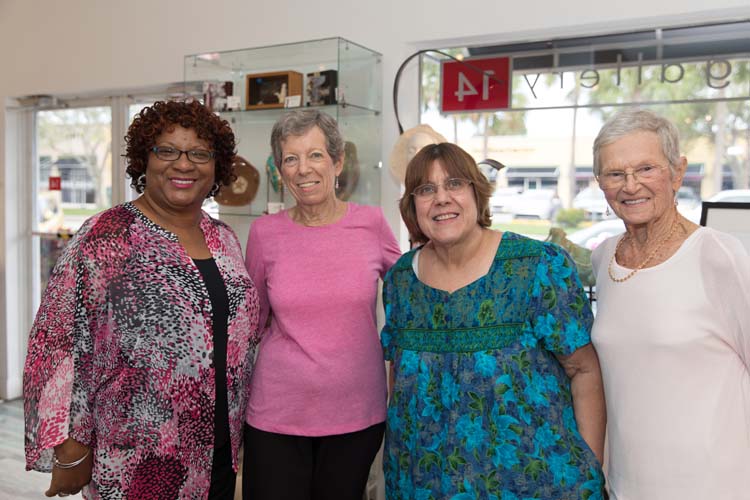 Bodyscapes by Allan Teger, the featured exhibition at Gallery 14, opened with a reception last Friday evening attended by representatives of Friends in Pink, an organization helping Treasure Coast residents defray the cost of breast cancer treatments. In recognition of Breast Cancer Awareness month, a portion of the show's sales will benefit the nonprofit founded in 2005 by survivor Nancy O'Neill.
Friends in Pink, comprised primarily of breast cancer survivors and funded through private grants, individual donors and fundraisers, assists with surgery and treatment expenses.
"We pay the bills associated with breast cancer surgery and treatment for those diagnosed with breast cancer in Indian River, St. Lucie and Martin counties," said Cheryl Caldwell, president. "We have helped almost 300 people on the Treasure Coast. Breast cancer treatment costs about $356,000. That's a lot of money. We help people that are truly in need; those that have inadequate health insurance, which means totally un-insured or with excessive deductibles."
A 16-year survivor, Caldwell said the show resonated with her, noting, "I'm used to being in control and all of a sudden I had this disease that took everything away from me. The featured piece in Bodyscapes, "Highwire," is an acrobat on a tightrope between two nipples on breasts. I tell people, 'that was me.' And every 12 months when I have to get another exam, it's me again. I realize once again my life is being dictated by my illness."
Teger's photography features tiny miniatures atop nude bodies, creating whimsical yet thought-provoking 'landscapes.'
"First you see a landscape, and then you realize that it is the body. The whole point of the work was to look at things differently. To approach things with a different mindset," Teger explained. "I show the body as a landscape to remind us things can be viewed many different ways. I think that's an important thing in looking at the body carefully, taking care of it, looking at it as an art object and in terms of the way in which we relate to the world."
Caldwell noted, "Our body, no matter how you look at it, is now changed forever. Whether you've had a bilateral, both breasts removed or a lumpectomy, it's forever changed and it makes us realize, hey that's OK."
The exhibit and sale of raffle tickets for 'Highwire' runs through Oct. 27, ending with a Meet-the-Artist reception and ticket drawing that day at Gallery 14.